The Tri-Cone
| | |
| --- | --- |
| School: | Michigan State |
| Team: | Andriejus Gaska, Jake Carson, Colleen Kosanke, Carsen Rawles |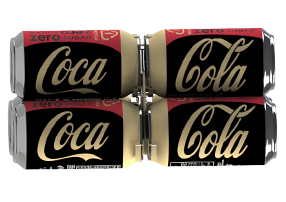 The Tri-Cone is multifunctional sustainable packaging system which includes
functionality for capping and carrying. Each 12 oz. can is secured in three different locations.
Two clips along the lip develop a 60-degree angle and extend to two other cans formulating a
pyramid shape. The packaging system connects six cans in a head-to-head direction
with three cans on each side.
In the 1960s, Hi-Cone was established as a solution to the deforestation crisis. Staying
true to Hi-Cone's mission, Tri-Cone has been invented to reduce carbon-footprint, energy
consumption, and water usage. Hi-Cone consists of 50% consumer recycled plastic and 50%
virgin LDPE, which is limited in curbside recyclability. Tri-cone switches to 100% recycled HDPE.
Therefore, using 100% recycled material reduces the total energy consumption and GHG
emitted into the atmosphere. rHDPE is more widely acceptable among curbside recyclability
programs as well leading to closed-loop recycling. Furthermore, Tri-cone promotes recycling as
the packaging system is clearly labeled/embossed to be recycled ("recycle me").
The Tri-Cone packaging system also benefits MRFs. Hi-Cones were problematic in the
aspect of clogging equipment within the facility and the difficulty of separating a clear and thin
plastic from other materials. Tri-Cone is a singular rigid plastic that can easily be identified and
separated into the proper recycling stream.
A known competitor on the market competing with Hi-Cone includes the Can Carrier
developed by Berlin Packaging. Tri-cone utilizes a pyramid stacking method and a head-tohead design to minimize plastic usage and lightweight the packaging system to decrease the
carbon food print. Tri-Cone weighs 9.17 grams less than the current Can Carrier on the market.
For consumer convenience, a handle is included in the packaging system for users to
transport product easily. The handle will be oriented facing the consumer on the shelf for easy
grab and go. Tri-Cone's handle is incorporated into the cap design. Therefore, it's one mold
made of the same materials. Instead of producing two molds, one mold will cut down on costs
and allow more opportunity for profit. Since this design utilizes rigid plastic it can be stored and
re-used by re-attaching any 12 oz. can to the packaging system.
Today, a typical grocery store aisle maintaining soda is filled with vertical cans, plastic
bottles, and paperboard boxes. Tri-cone displays cans and logos in a horizontal
direction attracting the consumers eyes. For example, when packaging Coca-Cola, the left side
of the package can display "Coca" and the right side of the package can display "Cola."
Therefore, the company logo can be exhibited across multiple cans, bringing branding to a
whole new level.