The Tear and Share Box
| | |
| --- | --- |
| School: | Chowan University |
| Team: | Shanelle Thompson, Diamond Martin, Karensa Strieder, Nicholas Russell, Jaquan Harper |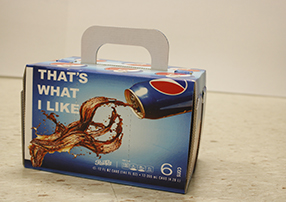 For this challenge, our approach for our package was to keep things simple. Our box, the
Tear and Share, is a glue less box that can be easily assembled and shipped. The material we
chose was corrugated paperboard. Going with corrugated paperboard was an easy choice because
of its durability. Our package design is big enough to fit all six cans, three on each side like the
traditional multipack plastic ring. We added a perforation in the middle of the box so you could
break the box and grab a drink and save space in your fridge. The box has handles as well for
easy carrying while still being able to lay flat for easing stacking in the stores and as it is
shipped.
The graphic design members decided to use the Pepsi logo and name on all parts of the
box. Three of the sides of the box are tied together in the graphics. It starts with a Pepsi can
pouring out and then goes down to the edge of the side. The next side has the Pepsi liquid filling
up the side and another Pepsi can float in it. The third side has the liquid coming out the side and
wrapping around the Pepsi logo. The fourth side has the typically information that the Pepsi
boxes have. On top of the box, we incorporated six Pepsi logos with the can opening piece to
show how the box opens in a unique way. The center Pepsi top is where the perforation is in
order for someone to tear it open.