Tear N' Share
| | |
| --- | --- |
| School: | GA Tech |
| Team: | Brittany Ritter, Hannah Ranieri, Anna Teachout |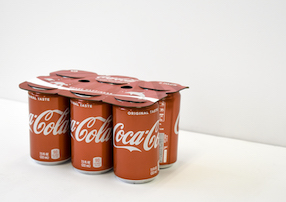 Sea creatures shouldn't have to consume the byproducts of our consumption. With the
current trend, it is predicted that by mid-century there will be more plastic waste than
fish in the oceans.
Introducing, Tear N' Share. Tear N' Share is a portable, stackable, shareable package
that contains six 7.5 fl oz. Coca-Cola cans. Rather than flooding the market and seas
with more problematic plastic rings, we chose to craft Tear N' Share out of 100%
recycled paperboard due to its organic ingredients and high recyclability rates. In
keeping with Coca-Cola's Open Happiness campaign, Tear N' Share was designed to
promote sharing amongst consumers thanks to its strategically placed perforations,
graphics, and ergonomic grips. With a simple tear, consumers can share their favorite
beverage (and lots of happiness) with others.
While the product of Coca-Cola has been a staple of global culture for over a century,
the way the product is produced and packaged is constantly changing for the better.
Today, the lifecycle of a can of Coca-Cola begins with filling and packaging through
continuous flow production intended to reduce waste by saving time, energy, and costs.
Our product is ideally suited to this method of manufacturing as the flat form makes
cutting and securing packaging to a group of cans precise and efficient. Additionally,
the singular sheet eliminates the need for adhesives that can contribute complications
to the recycling process. Next in the can's lifecycle is distribution and transportation.
The compact structure allows for maximum space efficiency when the product is
stacked during transportation and while on store shelves. Furthermore, the packaging
shelters the lid to protect the can's top surface from contamination and provides ample
space for branding. After consumption, the packaging can be easily tossed in the blue
bin to be recycled and reused.
Tear N' Share is made of 100% recycled paperboard, making it easily recyclable and
biodegradable. 100% recycled paperboard is made by mixing paper and water, no trees
involved in the process. This material minimizes the use of natural resources for
manufacturing and has a high curbside recyclability rate. The built-in grips on the Tear
N' Share conserve material by eliminating the need for a pop-out handle. Utilizing Tear
N' Share as an alternative to plastic ring carriers also provides valuable branding space.
This branding space is especially important in advocating for Hi-Line's sustainability
goals and Coca-Cola's World Without Waste Campaign.
After conducting research on Coca-Cola's brand identity, style guidelines, and past
marketing campaigns, we set out to create a graphic identity that's cohesive with the
Coca-Cola company, yet reflective of Hi-Line's forward-looking sustainability initiatives.
That's why we combined Coca-Cola's classic colors, font family, and ceaseless
positivity with a whimsical underwater scene. The silhouettes of sea creatures hint
towards Tear N' Shares' environmental impact and overall purpose all while creating an
attractive, playful experience for the consumer. Well, what are you waiting for? Grab
Tear N' Share and share happiness with the people in your life today!