Hokie Pack
| | |
| --- | --- |
| School: | Virginia Tech |
| Team: | Lucas DuMez, Julia Barbosa, Anna Troutt, Meredith Brooks |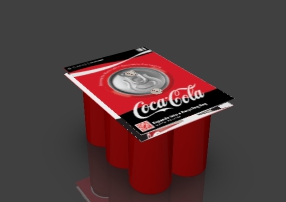 Hi-Cone has made huge improvements in the sustainability of their design with a common change being the utilization of paper based packaging instead of plastic. While using an easily recyclable and renewable material is a major step towards sustainability, utilizing it is not actually beneficial if it does not make it to the recycling center. Oftentimes, well intentioned recyclers unknowingly contribute to even more waste in landfills due to improper recycling practices. In fact, one of the most common recycling mistakes is placing recyclables in plastic bags, which prevents them from making it to the recycling center. To alleviate this issue, the Recycles in Own Container (RIOC) packaging was created. The RIOC uses a 100% recyclable packaging solution made from post-consumer recycled paperboard that serves to not only carry six, twelve ounce soda cans, but also pops open to function as a bin for the cans that is easily placed in the recycling container without the need for a plastic bag.
The RIOC is made from 16 point paperboard and features an expandable auto locking 1-2-3 bottom container that is easily assembled by following video instructions linked to the QR code on the package. The cans are secured in place by the toothed openings and can easily be pulled out without frustration. The packaging consists of one dieline made from a standard, making the design easily modifiable for different brands and easy to manufacture. The sleek, modern graphic design utilizes the space on the packaging to express Hi-Cone and its associated brands' prioritization of sustainability and recycling throughout the lifespan of their products from the shelf to curbside recycling.
Although RIOC uses more material, the weight of the packaging was still taken into great consideration. In order to reduce the amount of material used, we chose a low caliper paperboard which was sturdy enough to support the cans while using less material than thicker paperboard and corrugated. Additionally, by using smaller glue flaps and tabs and eliminating the need for a handle, some of the saved material was allocated to create the 1-2-3 bottom container and fold out sides. Furthermore, more material can be saved through additional cutouts on the packaging.
Attempts to use sustainable materials in order to increase recyclability are futile unless they make it to the recycling center where they can be properly sorted and cleaned. The RIOC solves this problem by innovating the traditional Hi-Cone into a dual purpose package that both carries the product before consumption and encourages proper recycling of the product by serving as a proper recycling container post consumption. With RIOC, we can keep recycling out of landfills.