Four of a Kind
| | |
| --- | --- |
| School: | Miami Ad School |
| Team: | Lauren Chiappini, Joanna Cotter, Kyra Smith, Alice Wannamaker |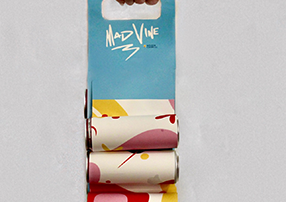 Design Challenge: Redesign the Hi-Cone six-pack aluminum can carrier to improve curbside
recyclability. Create a multipack solution that maintains a low carbon footprint and is curbside
recyclable for at least 60% of the continental U.S. to meet the FCC Green Guide standard. For
your design, choose one of our largest customers: Coke, Pepsi, Molson Coors, ABI, Dr. Pepper.
Our design rationale is simple – improve curbside recyclability in a striking, sleek, and
sustainable way. For our design, we chose Hi-Cone's largest customer, Molson Coors, to
communicate this message. Molson Coors produces some of the most iconic beer brands ever
made, but the beverage company also expands beyond the beer aisle with MadVine sodas. Our
main mission with choosing Molson Coors' MadVine is to align with our three design goals:
keep it striking, keep it sleek, and keep it sustainable. Their diet sodas are plant-based with zero
calories, zero sugar, and zero artificial ingredients, marketing to an eco-friendly target audience.
Our design decisions to improve curbside recyclability markets to a similar target audience.
That's why our packaging shows thoughtful details in material and form as well as illustrations,
colors, and fonts. The bamboo material we have chosen for the outer packaging maintains a low
carbon footprint and is an economically and environmentally sustainable alternative to plastic.
The bamboo material in our packaging has immense strength, durability, and versatility to make
sure MadVine's products are perfectly secured. Our form demonstrates a fun and functional type
of packaging to our consumers that leaves them wanting more. The outer packaging features a
blue stem and a raindrop shape on the outside to bring nature's beauty back into the design.
Our packaging illustrates German design mixed with MadVine's signature colors of yellow,
pink, red, blue, and green. We wanted to highlight Molson Coors' roots in Germany in a bold,
playful, and geometric way. The design on the front of the handle is simple to create balance and
mimics MadVine's signature logo. As you flip it over, the consumer will see a nutrition label for
our packaging with fun copy. In 2014, Molson Coors led all alcohol companies by voluntarily
placing a nutrition label on all of their brands and we wanted to support this through our own
label. Our packaging also aligns with Molson Coors' 2025 imprint goals of reducing carbon
emissions, making 100% of their packaging recyclable, and participating in recycling solutions.
Our packaging embodies Molson Coors and MadVine's roots while also improving curbside
recycling. We are proud of our packaging, proud of our team, and proud of our planet.