For Ocean
| | |
| --- | --- |
| School: | San Jose State |
| Team: | Rosalyn Yasui, Jaina Araujo, Joseph Porreca, Yuxin (Starr) Gong |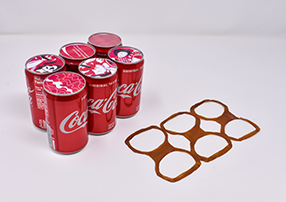 Partnered with 48-hour Re-Pack, Hi-Cone has delivered the chance to put on our thinking hats to
create sustainable packaging options for packs of soda cans and/or PET plastic bottles. For
Oceans packaging is made of a biopolymer, called Bacterial Cellulose, which comes from
natural and 100% biodegradable and compostable. The research of this new material has been an
on-going project in many universities across the world because it can be applied in various parts
of the packaging industry like food packaging, active packaging, and intelligent packaging, to
replace the traditional plastics.
For Oceans design consists of a structure similar to that of the current carrier flexible plastic
ring. A lot of research has already proved that the material has great physical properties, such as
high tensile strength. The physical properties of For Oceans will assist in bundling the cans
together and providing an easy grip to pick up the cans. The material's total weight is 3.2 grams;
therefore, the carbon footprint is less than current flexible plastic ring packaging. Sustainability
is helping the environment be eco-friendly, so taking it a step further to be biodegradable and
compostable will prove to be beneficial to the environment.
In the design of For Oceans , paper is covering the top of the cans for various reasons. First, to
aid in keeping the cans tamper proof. Secondly, the simple, but beautiful paper is a way to give
clear instructions to consumers to gain knowledge about how to handle the waste. Furthermore,
the biodegradable and compo-sable material will effectively adapt to existing manufacturing
machines because of the physical qualities similar to traditional plastics. Cutting, rolling, and
applying by stretching there would be no need to change out equipment, therefore, saving on
costs. However, there would be only one concern and that is the need to find competitive and
available suppliers to supply massive amounts of material.
All in all, For Oceans, may be the future of plastics. The material may inspire consumers to rethink the material when discarding waste. For Oceans will help to light up a smile for the
environment.