Coke at Home
| | |
| --- | --- |
| School: | Michigan State |
| Team: | Elias Naddaf, Grace Ellis, Anna Finazzo, Kira Chandler |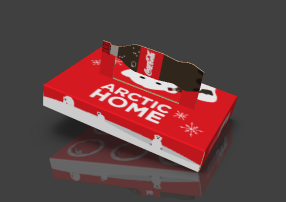 Share a Coke at home. Share a Coke virtually. And most importantly, share a Coke safely.
Enjoying a Coke has looked very different over the last year. We are living through times unlike
any other, and sharing responsibly, both environmentally and socially, is our number one priority.
According to The Recycling Partnership, "Curbside recycling in the U.S. currently recovers only
32% of available recyclables in single-family homes." This presents an enormous opportunity to
address climate change by encouraging more recycling.
Coke at Home is an alternative design for the traditional LDPE Hi-Cones used for 6-pack
aluminum Coke cans. This is a low weight E-flute corrugated board made from recycled
materials to improve recyclability and reduce use of virgin materials. Even with Hi-Cone's low
environmental impact, the end-of-life management is sub-par, so a non-plastic alternative is an
attractive choice to ensure appropriate disposal post-use. The current US infrastructure has
limited curbside recycling of #4 flexible LDPE, while corrugated is easily identifiable to a
consumer as recyclable and is widely accepted in the US. To promote the appropriate action,
using a material that makes it simple is key. Avoiding the need for a consumer to have to check
locally or drop it off at a store increases the likelihood that they will recycle the product.
Simplicity and practicality is crucial for consumer acceptance. This design offers comfortable
carrying with an easily identifiable handle, while keeping the cans upright and in place from
point of purchase to consumption. The structure has creases that allow the corrugate to flatten
and cans to stack for minimal change to the pallet, distribution and shelf presence. The cans are
tightly secured with the slits along the rings. This lightweight e-flute alternative could be easily
sourced and is relatively inexpensive. The one-of-a-kind "home" design clearly catches the eye
as a timely and unique alternative to Hi-Cones.
Safety and preventing the spread of COVID-19 is top-of-mind for everyone. To ensure
sanitation, we are moving away from the current fully exposed drinking spout. Coke at Home
offers a protective covering for the drinking spout to reduce contact and contamination. This
offers reassurance to a consumer that the surface is safe and clean. More than ever before, we
want to reduce the amount of touch points during distribution to minimize health risks and keep
consumers safe.
Home is the safest and most soothing place during a pandemic. The Coke at Home design
provides encouraging but subtle messaging to encourage responsible behavior, promotes the
values of The Coca-Cola Company and reminds consumers to do the right thing to keep
everyone safe.
Do your part, be responsible, and share a Coke at home.