CarryPack
| | |
| --- | --- |
| School: | Michigan State |
| Team: | Isaac Fitzgerald, Yolanda Carbajal, Abbey Behan |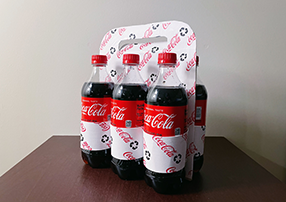 The CarryPack is a portable sleeve package that holds six 20 fluid ounce bottles in each
sleeve. Made of 100% paperboard it is a recyclable package that can be compacted into a thin
board. It's a great alternative to the current six ring hi-cone design that pollutes the ocean and
kills wildlife. The CarryPack has two major components: the handle and sleeves. The
handle/middle portion is 9" x 11" with a 1" x 4.5" perforated opening towards the top for easy
transportation from the store to your home. This component is double layered to help sustain the
weight of the product. The handle comes out over the top to allow an easy and comfortable grip.
Along with that, since the handle is taller than the bottles, it can fold down to lay flat to allow
multiple units to stack on top of one another. The bottom component contains three sleeves on
each side. Each sleeve has a 10" circumference. The sleeve hugs the bottle near the bottom and
provides support to hold the bottle upright and unitize. They are held together with an adhesive
that allows for a clean modern look.
The CarryPack is 100% recyclable and can be put in any standard curbside recycling bin,
meaning an overall less wasteful impact on the environment. The CarryPack can be folded down
for easy cleanup and disposal. It requires minimal space, in the recycle bin and during
distribution.
The CarryPack is printed with black Algae Ink, which is made from Algae cells
compared to normal 'eco-friendly' inks that are made with petroleum or oil. Algae is a purer ink
for curbside recycling and makes the process a lot more simple. Not only that, but the sleek
design does a great job at communicating with the consumer to recycle the Carry Pack. The Coca
Cola logo with the classic recycling symbol is printed over the paperboard. The paperboard
serves as the background and communicates to the consumers to put it in their curbside recycling
bin once they are finished with it.
Upon reaching for the six-pack product the customer will feel comfort and sturdiness.
Signaling a premium package feel. When the consumer reaches out for a drink they can pull the
perforated tab to release the drink without having to rip or tear the paper board aggressively.