Carbo Carrier
| | |
| --- | --- |
| School: | Rutgers University |
| Team: | Ellen Chen, Michelle Leong, Vance Balce, Louis Li |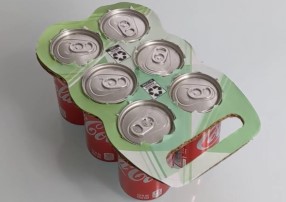 Traditional plastic six-pack rings that are used to carry aluminum cans are notorious for
contributing to the plastic waste found in our oceans. As stated by the UN, "…about 300 million
tons of plastic waste every year are produced, nearly equivalent to the weight of the entire human
population. If current trends continue, oceans may contain more plastic than fish by 2050".
Additionally, conventional single-use plastics are known for polluting and harming ocean life.
The plastic rings especially are commonly mistaken for food, and animals even become
entangled in them. Hi-Cone's 2020 Sustainability Report highlights that "[t]he single-use
phenomenon depletes natural resources, adds greenhouse gases to the atmosphere, harms
wildlife, and contaminates ecosystems."
To combat this global issue, Carbo Carrier has been engineered to ensure a positive, streamlined
cradle-to-cradle process. Carbo Carrier is both 100% recyclable and biodegradable since it is
made of C-flute corrugated cardboard. Corrugated cardboard has one of the highest recycling
rates of any form of packaging in the world. In the U.S., the total amount of plastic recycled is
about 8.4%. In comparison, 65% of paper is recycled while some statistics show that upwards of
96% of corrugated packaging is recycled.
Although the main structure of the new design grabs inspiration from the traditional-style
Hi-Cones, it features a handle for easy, on-the-go utility. Six-pack rings made of corrugated
cardboard are sufficiently durable and lightweight, but are far more sustainable. The circular
cutouts are shaped to allow the rims of the aluminum cans to fit through when force is applied.
The small ridges along a single cutout would then engage the neck of the aluminum can,
securing the can in place for handling. As the weight of the Carbo Carrier is 10 grams, it is less
than 3 times the current weight of the six-pack carrier design, thus maintaining a low carbon
footprint. Furthermore, the graphics of the Carbo Carrier is created to be compatible with any
beverage brand while conveying the packaging's sustainable design to the consumer.
A key insight noted in the Hi-Cone 2020 Sustainability Report is that "60% of adults across all
territories said they agreed with the statement 'I don't know how to recycle some types of plastic
packaging.'" Since the new design has no plastic, consumers can easily recycle the six-pack
carrier without hesitation. Unlike the traditional Hi-Cone design, Carbo Carrier includes
How2Recycle labels to indicate to consumers that the six-pack carrier can be recycled and
should be recycled. The objective of including labels is to mitigate any confusion on how each
packaging component should be recycled. In 2010, 87 percent of the population had access to
curbside and/or drop-off paper recycling. Based on that statistic, curbside/drop-off paper
recycling is easily accessible to the majority of consumers in the U.S.
We are committed to shaping a path to a more sustainable tomorrow…think globally, act locally!