BON V!V Hive Pack
| | |
| --- | --- |
| School: | Miami Ad School |
| Team: | Emily Sparks, Mira Carroll, Daniel Sanchez, Lexie Canario |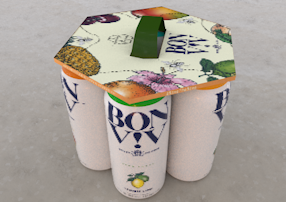 The Earth's health is at stake, waste continues to pollute our oceans, and the bees are
still in danger. The Bon V!V Hive Pack is unique in its ambitious environmental
endeavors and return to the form of nature. Bon V!V creates refreshing, spiked seltzers
with natural fruit flavors. Their sourced ingredients require ample flower pollination so
that fruits may grow to be used in their seltzers. With a twist on the traditional 6-pack,
we created the specialty Hive Pack that serves as a tribute to honeybees and in turn
promotes a positive environmental impact. If given the opportunity, this packaging
campaign would be paired with a profit donation to bee sanctuaries.
Traditional plastic Hi-Cone packaging does not lend itself to easy curbside recyclability
or animal safety if improperly discarded. As an alternative, we created hexagonal,
perimeter-efficient, recyclable, FSC-certified paperboard packaging to hold six seltzers.
This compact, new way to transport and enjoy a 6-pack of seltzers is a return to nature
in its honeycomb-inspired packaging concept. If anyone knows how to create sturdy,
efficient structures, it's bees, and they've been doing it for millions of years.
The FSC-certified paperboard dieline is cut from a single sheet containing two
hexagons and six border sections with tabs to connect. The top hexagon has a
rectangular die cut in its center for the handle to thread through. The bottom hexagon
holds the cans with secure tabs in which the cans can be popped out of. In addition, it is
designed slightly longer than the top with a creased valley on the edges to allow extra
space for the handle to be threaded through the top cutout. The addition of this crease
enables the carrier to comfortably carry the Hive Pack. The interwoven nature of this
handle mechanism keeps the Hive Pack secure when holding, but it is still stackable on
a shelf, pantry, or fridge.
With a nod to honeybees in the shape of the Hive Pack, we designed the top to similarly
reference the importance of bees to our society. Each vertex of the honeycomb
represents a different flavor in the variety pack, and honeybees are circulating these
fruits to remind consumers of their importance.
Hive Pack features visually stimulating assortment options with its hexagonal
tessellation. The weight of our packaging is evenly distributed no matter which way you
stack it. Its eye-catching design references the illustrative branding of Bon V!V.
However, the Hive Pack's unique design, addition of the honeybee's journey, and
dedicated effort to remind the consumer that it is 100% recyclable makes our product
stand out. Our goal is to encourage consumers to join the Bon V!V Hive to use our fully
recyclable cans and carriers, eliminate single use plastics, and spread the buzz.