Biodegradable Six-Pack Carrier
Biodegradable Six-Pack Carrier
| | |
| --- | --- |
| School: | GA Tech |
| Team: | Karin Westbrook, Madison Watts, Alyson Lam |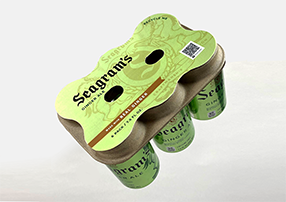 Traditional plastic six-pack aluminum can carriers are notorious for their negative impact
on the environment, specifically on marine wildlife. The solution to this problem? Smarter
design. KAM Design Group chose to tackle design challenge #1, which required teams to
redesign a six-pack carrier for aluminum cans that embraced sustainable design.
Our redesigned aluminum can carrier successfully enhances sustainability efforts through use of
innovative and organic material while also being highly functional. Our carrier is made from
biodegradable thermoformed fiber plant material that provides a light-weight product that
maintains affordability and ease of manufacturing. This choice of material allows our carrier to
degrade in weeks rather than the many months it can take traditional plastic six-pack rings to
degrade if they are polluted in the environment.
Finger holes allow the user to easily pick up and carry a six-pack beverage container and full coverage of the mouth of each aluminum can provides a more sanitary sharing experience. The exposure of the carrier's organic material enhances the expression of its sustainable aesthetic.
Our carrier can be easily reused or easily recycled, giving the consumer the power to choose a sustainably designed package that promotes a cleaner environment. Our package is also great for shipping, stacking, and storing as it features a low profile rectangular form which also allows for strong brand identity communication. KAM Design Group's redesigned six-pack aluminum can carrier is a smart and responsible solution that promotes a cleaner, healthier world.