Woodworth
| | |
| --- | --- |
| School: | The Creative Circus |
| Team: | Kelsey Billings, Besty Woodworth, Kyle Fountain |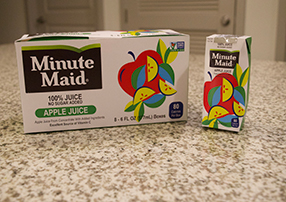 For decades both children and adults alike have struggled to put the small, flimsy straws
into juice boxes. Either the straw bends, cracks and splits, fails to puncture the box, or gets lost
in a lunch box or backpack all together. The foil puncture point on the box can also become a
fail point, stretching out and frustrating the user. Without a straw to drink from most juice
boxes are merely a taunt to a child. We have set out to make a juice box that is not only easier
for children to open and drink from, but also
We have removed the straw and accompanying plastic wrapper entirely. And we have
also revamped the ergonomics of the container. gone are the un-ergonomic corners of the
original box replaced with 8 surfaces of varying size. The new tetra-sided box carries through
the numerical theme of the tetra pack that Minute Maid sells. We have incorporated a flat, no
seam top for drinking comfort, replete with a teardrop shaped open mouth design that is easy
for children to access and use. The sipping hole is covered with a simple tear away piece of
recyclable foil portion that reveals the sipping hole as well as a new vent hole to ensure that the
juice flows smoothly when sipped or poured so that no child spills their drink because of a
rouge glug of juice. This design also makes for a higher level of versatility. A parent can now
easily and smoothly pour the juice into a cup for their child or simply give them the box.
The design of the packaging has been updated along with the box design with a more
modern illustrated style that is approachable, colorful, and full of the personality that makes
Minute Maid so successful. This packaging feels organic, and conveys the purity of the contents
within the packaging. The nod to the recycling symbol in the illustration reminds the consumers
to recycle the package without preaching at them. It will also stand out on shelves by
differentiating itself from the herd due to this design.
The tetra pack itself has been redesigned to eliminate the use of shrink-wrapped plastic.
This plastic is a common point of waste with multi-packs of juice. While it is recyclable, most
people do not recycle it. They simply discard it in the trash. We have chosen a flip top design
made of recyclable cardboard that is both environmentally friendly, and convenient. This design
will allow for easy access to the juice boxes by both parents and children should thirst strike.