No Waste Case
| | |
| --- | --- |
| School: | Michigan State |
| Team: | Mackenna Payne, Morgan Bucholtz, Michael Bucholtz, Sean McKillop |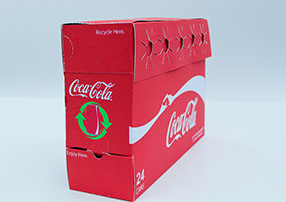 The No Waste Case is an innovative, multifaceted design which utilizes a combination of features to make it easier for the everyday consumer to recycle and help preserve our planet. The Environmental Protection Agency (EPA) estimates that 75 percent of the US waste stream can be recycled or composted, however, a shockingly low 34 percent of materials are reported to be returned. With this in mind, No Waste Case was developed to encourage consumers to adopt responsible waste disposal behaviors post-consumption.
In addition to promoting more environmentally-conscious behaviors, No Waste Case also offers convenience in product consumption, as the case has the ability to auto-dispense soda cans after each use. The primary feature in this design is the ability to place empty cans into the same container that holds unopened cans, while keeping them separated by means of a flexible paperboard divider. To further maximize storage space for your empty containers, paperboard hi-cones serve to assist in carrying empty Polyethylene Terephthalate (PET) bottles conveniently with the rest of the cans, all in one unit. In an effort to make recycling as impactful as possible, this case has been designed to convert into its own portable recycling container, which can then be easily emptied, broken down, and recycled.
The No Waste Case is beautifully designed with simplistic, yet impactful graphics that are direct  printed onto Solid Bleached Sulfate (SBS) paperboard. It is dimensionally identical to its predecessor, meaning that no production modifications would be necessary. Additionally, when the No Waste Case is packed with empty cans and bottles and ready to be taken to the recycling facility, it transforms from a normal 24 count soda can case to an eye-catching disposable unit. The case is made out of 100% recyclable materials, meaning it can be recycled along with all of the cans and bottles.
Before the No Waste Case, consumers may have been seen lugging their plastic trash bags full of disoriented, dirty recyclables to their recycling centers. But now with our revolutionary 100% recyclable design, consumers can carry an organized paperboard case of their recyclables with ease and beauty. We are giving recycling a new look, which will in turn intrigue other consumers enough to make the change to smarter, greener solutions. Share a Coke. Share responsibility, because we share this planet.