Peal 'n' Sip
| | |
| --- | --- |
| School: | California Polytechnic |
| Team: | Samantha Phan, Michaela Kwan, Amber Huang, Caleb Dea |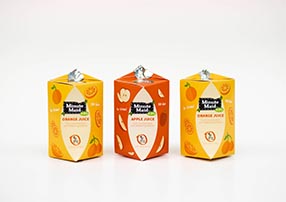 Peel 'n' Sip is a strawless replacement for a standard Tetra Pak juice box. Its one-of-a-kind
design is ergonomic for children's hands and makes the box intuitive to drink from. Instead of a
straw, one corner of the box is raised to form a spout. The spout guides the juice and prevents
potential spills. Since there is only one hole, a vacuum is formed after each sip is taken. This
further decreases the risk of children spilling juice everywhere. The square shape allows the
juice boxes to be packed easily together for distribution and retail shelves. The material used to
form the box is Tetra Pak because it is the best way to keep liquids shelf-stable and
micro-organisms out of the product. This allows children to take Peel 'n' Sip anywhere they want
and not worry about the juice spoiling. The tough material protects the product from potential
rough handling by children. To keep the opening sanitary, an aluminum peelable seal is
heat-sealed over the hole. In addition to functionality, the structure of the juice box also focuses
on providing optimal space for graphics.
The graphics created for the redesigned Minute Maid juice box packaging is bright and colorful.
With playful illustrations and typography, the packaging is designed to be attractive to kids. The
design emphasizes the brand's promise to bring quality fruit juice from the freshest ingredients.
The concave front face serves two purposes. It flattens the corner edge to promote an
ergonomic grip, and it connects the two adjacent faces to create a wide canvas for the main
graphics. The smaller concave face serves as a thumb grip and space to show off the fruit
mascot for each flavor. The aluminum seal has an intuitively shaped tab, reinforced by the
"PEEL ME!" text. The front graphics face outwards when the user is consuming the product,
thus showing off the brand and colorful graphics.
The Peel 'n' Sip redesign not only solves the issue around straws for juice boxes, it also creates
a kid friendly user experience.