Team Tired
| | |
| --- | --- |
| School: | Portfolio Center |
| Team: | Jordan Chopra, Amanda Farish, Brianna Grant, Diamond Harris, Melanie Rankin |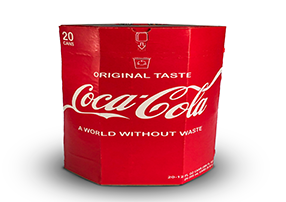 What stops us from recycling? The lingering question is not easily answered after finishing an ice cold can of Coca-Cola. Consumers, ages 18-34, are more likely to select recyclable packaging than an older generation. Creating a cool branded package, that makes recycling easier will drive more sales and help Coca-Cola reach their sustainability business model. This model helps create packaging that has more than one life. Reducing cardboard in packaging, that begs for more experiential design, assists the consumer in purchasing products that encourage a world without waste.
The hexagon shape is an elegant alternative to the typical 20 pack Coca-Cola box size. The tessellating geometry of the package allows the graphics to flow seamlessly across multiple units. By reducing the overall packaging needed, it is cost effective and is a more economical use of shelving space. Capturing attention, the design is simply a stunning move away from the typical soda box. From across a room, the introduction of the hexagon shape will soon become an identifiable piece of Coca-Cola branding. The eye catching shape disrupts the market in new ways.The interlocking lid, brings an easy way to move empty cans into the container. This provides a convenient way to encourage recycling. The small can icon at the top of the package folds neatly into place to lock and secure. A perforated edge allows for quick access to share a coke. The one way opening insures that all recyclables stay put within your bin while traveling to the recycling station.
By creating a vertical case of cans, Coca-Cola saves 20 sq in. of paper per package. This allows for Coca-Cola to reduce their production costs and increase overall sales. The improved design creates more storage space not only in the supermarket but also in the home. Once taken home, the package becomes a functional accessory for the kitchen that encourages recycling of cans and PET materials with ease. Just pack it out and pack it back in.The final detail, an educational insert, reminds consumers about the advantages of recycling and Coca-Cola's "Collect, Reuse, Recycle" initiative.
The graphics at the top of the container show a recycling symbol with animals in their natural environments. This reminds consumers of the beautiful world that we need to protect through recycling initiatives. The Coca-Cola logo connects to hands that share the mission to restore the globe.