Team Packaging Pandas
| | |
| --- | --- |
| School: | Rochester Institute of Tech |
| Team: | Charlene, Deepak, Harsha, and Ravi. |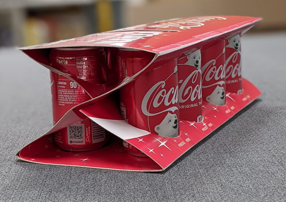 Hi-Cone Alternative
Hi-Cone (a.k.a 'plastic rings') is an efficient way to bundle pack 8 or 6 cans together by keeping low manufacturing costs. However, they hold bad reputations due to plastic pollution in the ocean, landfill and proven evidence of animal choking hazards in land and sea. Also, their smaller size and weight make them less visible and end up as trash.
According to Coca Cola 2018 Sustainability report, packaging holds the third position in their priority issue matrix considering increased concern among stakeholders and potential impact on their system. Hi-cone plastic rings have a lesser percentage of going through recycling paths. Therefore, it is important to overcome these problems and eliminate environmental concerns by improving the percentage of recycling.
Using paperboards for packaging has a more positive impact on consumers due to its recyclability and it is a growing trend in today's market. Thus, for this 48Hrs repack challenge we choose recyclable paperboards to pack 8 cans of soda. Our proposed new design has ellipse-shaped die cuts that provide firm holding and x-shaped structure minimizes the impact of external transportation and handling damages. For marketing, our package design is more visible on the shelf by its sleek and unique appearance. The perforation and crease marks on the front side ease the removal of a can. The cans are positioned individually inside ellipse-shaped die cuts which allows the whole package usable even after removal of few cans.
To overcome the problem of animal choking hazards and plastic pollution, our purposed paperboard design is easy to crush and toss into the recycling blue bin. Also, it eliminates all environmental concerns compared to Hi-cone plastic rings.