Team 8
| | |
| --- | --- |
| School: | Portfolio Center |
| Team: | Dessa Amelia Nicholson, Alexandra Canario, Aisha Marballie, Kelsey Matthews, |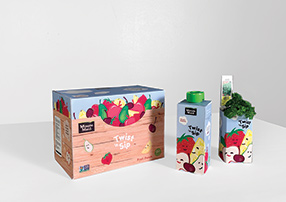 Coca-Cola: Refresh the World and Make a Difference.
Problem:
Today's Minute Maid Juice Box requires an external glued-on straw that often falls off and
gets lost or damaged. Breaking the seal with the straw is another frequent consumer pain
point.
Concept:
Adding an easy to open twist-off cap to replace straws on juice boxes will create a smoother
juice drinking experience. The integrity of the product will remain recyclable.
Solution:
New Minute Maid Twist 'n Sip Juice Boxes are straw-less, easy to open, and easy to drink from.
Twist top technology makes them easy to open for hands of all sizes. Featuring an "easy-tosip"
juice shoot for quick access. Simply twist, sip, and enjoy! Taste that lasts with a carbon
footprint that won't. The environmentally friendly Tetra Pak is 100% recyclable. We encourage
parents and consumers to cut off the tops of the empty boxes (including the twist cap) and
recycle them. The remaining portion of the box can be used to plant a personal garden. With
Minute Maid Twist 'n Sip, families can start growing for the future.