Share and Tear
| | |
| --- | --- |
| School: | University of Wisconsin |
| Team: | Brenna Gilman, Isabella Graber |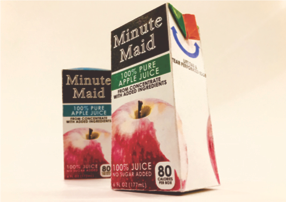 With ocean plastics threatening our marine wildlife, it's time for a change. Straws are an unnecessary product entering the waste stream. With California's straw ban, we need to work quickly to remove them from packaging designs. The Share and Tear straw-less juice box eliminates the need for a plastic straw and the film used with it.
Our design focuses on being simple, sustainable, and low cost. It features an easy to open tab at the top tab of the Minute Maid juice box. After flipping the tab, tear along the perforated edge. Squeeze the two corners of the box and a natural spout is made to enjoy the juice. Once open, the beverage stays fresh by flipping the flap back down.
Minute Maid juice boxes are a staple for children on the go and are perfect for their team's post-game snack. Share and Tear makes it easy for all ages to open their juice box and drink it too. The new design keeps the current TetraPak style with an additional perforation. The perforated edge will be applied only to the paperboard layer, thus not interfering with the barrier properties and it will be added before the TetraPak is set up. Due to the low impact on the manufacturing process and the elimination of the straw, Share and Tear will provide an all-around cost reduction opportunity.