SCAD ATL 2
| | |
| --- | --- |
| School: | SCAD |
| Team: | Suvani Dave, Stephen Wiedl, Daniela Connor, Jun Ye, Giuli Hull |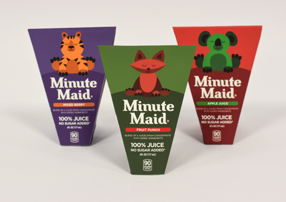 The 48 Hour Re-Pack competition challenges students to design environmentally-friendly packaging alternatives. One of the 2020 challenges stated that we must redesign the 6oz. Fruit Minute Maid Tetra Pack, or a pouch with a straw-less alternative. The SCAD ATL 2 Team chose to design a pouch with a straw-less alternative, in an effort to allow customers to easily open and drink from it without having to use a straw.
After exploring many different directions, our team chose to implement a flip up tabbed design. The package is made of recyclable paper, so once the user has finished the contents it can be easily disposed of and the graphics are applied with biodegradable soy inks.
The package has a perforated tab across the top of the package. When this tab is torn and flipped upwards, a reservoir is formed that can be sucked to get the juice contents out. This action will naturally cause the reservoir to expand to allow the juice to exit. Since the opening to the juice package is so small, if the package were to be tipped over, so only a small amount juice would escape. As the customer continues to drink, the tapered design will allow for the contents to easily flow towards the top exit of the package as it is tilted towards the user's mouth.
As for the printed design of the package, the team focused on appealing to children. Two- dimensional illustrations of a fox, tiger, and koala bear are printed on the front of the package. Complementary colors are used to appeal to the viewer as well. The box that the juice packages are stored in also feature the same illustrations to create a design system. The new Minute Maid straw-less juice pouch provides an eco-friendly, yet fun alternative to children's juice pouch packaging.