SCAD ATL 1
| | |
| --- | --- |
| School: | SCAD |
| Team: | Lei Zhang, Hwayoung Hwang, Jiatong Li, Michael Mac Williams |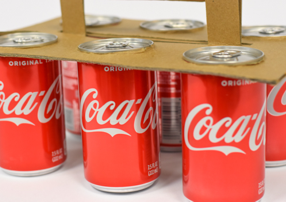 The team was challenged to create an eco-friendly alternative to the Hi-Cone plastic packaging system. Many consumers throw away Hi-Cone plastic because they assume that it can't be recycled. Moving away from recyclable plastic, the team designed a simple Hi-Cone that uses recyclable eco-friendly paper only.
The Coca-Cola eco-friendly Hi-Cone is designed to use as little material as possible while also maintaining its ease of use. The sleeve is made from one sheet of recyclable eco-friendly paper and doesn't require any glue for manufacturing. Circular holes are die cut to house the top of the cans. The main section of the carrier folds down on both sides to reinforce the cans at the top. This reinforcement adds durability and ensures that the cans stay in place when being handled by staff and consumers. The tabs at both ends fold through the top of the carrier to create a handle for easy carrying. When on the shelf, the handles fold down flush to the top to save space.
This packaging solution for both the six and eight pack wouldn't be difficult to produce. Folding together from one sheet of paper, this design would potentially make production easier and lower the costs. This alternative doesn't require any graphics or printing. All of the paper material sits on top of the cans, leaving them exposed. This way the cans can display the branding on the shelf.
This paper reimagination of the Hi-Cone should inspire and promote recycling. Consumers tend to recycle paper more than they do plastic. If people were to litter, the eco-friendly paper would do less harm to the environment than plastics would. Reusing and recycling is encouraged with this paper Hi-Cone because it can be completely unassembled and folded flat. This design would bring an eco-conscious image to the public in a convenient easy-to-use way.