Pack Men
| | |
| --- | --- |
| School: | Art Institute of Atlanta |
| Team: | Edwin Villalba, Mattie Cagle, Tatyana Lewis, Major Filer, Edgar Cruz |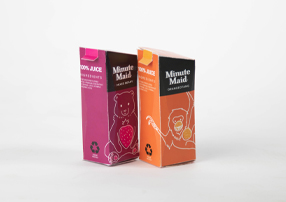 Our group is made up of five eager students from the Art Institute of Atlanta. We are passionate
about packaging, design, and creative problem solving. Our challenge was to create a straw less juice
box. With much exploration, we improved functionality by creating a perforated tab that is intuitive,
compact and convenient. Our creative process was inspired by the design drivers: geometric, vibrant,
modern, sustainable, organic, educational, and tangible.
By making the package "squashable," we further improved the design and added a sensory
experience for the target audience. Since our target is children, and most are either kinesthetic or visual
learners, our juice box will be intriguing due to this "squashable" action. With extended score lines on all
four corners, the box will adhere to the natural grip of a child.
Not only will our design be intriguing to children, it will also be compelling for parents due to the
educational aspect. Colors, shapes, and animals are introduced in the first few years of school.
Therefore, this minimal design with vibrant colors and simplistic line drawings of recognizable animals
will promote an association between the flavor and the visual. What will stand out most on a shelf is the
pop of color with the deep purple and the energetic orange. Minute Maid "Squashables" aren't just a
juice, they're a learning tool geared to enhance and cultivate young minds.
When choosing materials, sustainability was our focus. We landed on one-hundred-pound
recycled cardstock lined with sustainably sourced wax parchment paper to insulate the juice. According
to Staples, their copies are printed on "50% post-consumer recycled paper certified by the Forest
Stewardship Council, which means the paper meets stringent standards to responsibly manage and
protect forests." This entire product is now sustainable and recyclable.