Origami Crew
| | |
| --- | --- |
| School: | California Polytechnic |
| Team: | Eric Roesch, Alec Thilmony, Matt Hanna, Parker Hicks, Amber Chiang |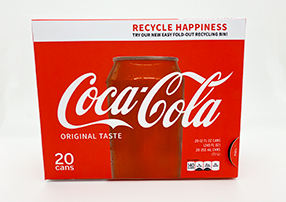 The Recycling Reinvented 20pk incorporates an integrated can dispenser and recycle bin all in
one, for the consumer at a party, on the beach, hosting a BBQ, or any other place where
recycling is not an easy option.
Our design incorporates an integrated dispenser, as well as a fold-out recycle bin. This allows
the consumer to be able to both store and dispense cans, as well as easily provide a way for
people to recycle. The dispenser is incorporated through a perforated tear-away door that the
consumer's eye is drawn to with both a stick out tab, as well as instructional graphics. The cans
fall into the door and then is easily removed by pulling the rim of the can out and up. This
package also encourages consumers to recycle no matter where they are. Rather than having
to carry a separate bag for recycling, consumers can use their boxes instead. The recycle bin is
folded up with two easy-open zipper perforations that the users can tear away, then unfold the
recycle bin. The bin has enough room to hold every can in the pack for easy transportation to
recycle later. Additionally, when all the Coca-Cola is consumed the dispenser folds away to
make transportation of the recycle section even easier.
The footprint of Recycling Reinvented in the store, and through distribution, is approximately the
same as the current 20pk in stores today. This keeps distribution costs down and makes sure
that the in-store presence of the pack does not change.
We modeled our dieline to fit on one 40 in. by 40 in. sheet of Solid Unbleached Sulfate (SUS)
paperboard for ease of manufacture, which in turn cuts down on costs. Even with multiple box
compartments, the package only requires a single dieline providing ease in printing, cutting,
filling and gluing without having to glue multiple constructed sections together. Thus, a rotary die
cutter could be easily used for die cuts. SUS also provides a great surface for printing
Coca-Cola's classic red and white colors. Lastly, the net ships flat for easy distribution between
different levels of the supply chain.