New Wave
| | |
| --- | --- |
| School: | Portfolio Center |
| Team: | Francis Rutledge, Hanh Nguyen, Victoria Bonhomme, |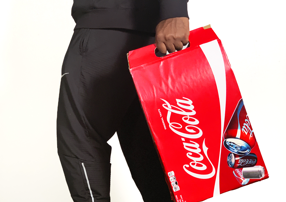 With the growing climate problem, how to we encourage consumers to do their part in reducing climate change? Small acts by individuals can lead to big changes. Recycling has the opportunity to create a massive shift in climate change. However it will require a lot of small acts by a lot of people. How can Coca-Cola encourage their customers to play a part in saving the world?
Our redesigned 24-pack will encourage customers to easily recycle their cans and other products by turning into an easy to use, transportable recycling can. With easy to understand instructions of how to turn the box into a recycling can, and easy to use handles for transporting to the trash, consumers can easily play a part in saving the planet.
After a fun day on the beach or party with friends where everyone has enjoyed coke, customers can easily transform the box into a recycle bin. The perforated handles make it easy to carry to the car or straight to the recycling bin for collection.
This package would be a part of the coke play your part campaign, that encourages customers to make small changes that can impact the world in a big way. More than 1.9 billion servings of coke are enjoyed in over 200 countries per day. If we can get just a portion of customers to recycle, we can have a huge impact.
Save the world. One can at a time.