Junior Coke
| | |
| --- | --- |
| School: | University of Kansas |
| Team: | Troy Dunn, Mary Grace Heil, Erika Lobo, Kartis Allison |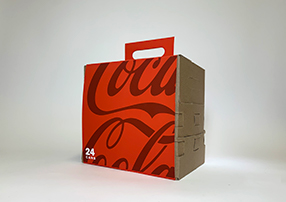 COCA-COLA'S MISSION IS TO REFRESH THE WORLD IN MIND, BODY AND SPIRIT. TO INSPIRE MOMENTS OF OPTIMISM AND HAPPINESS THROUGH THEIR BRANDS AND ACTIONS. TO CREATE VALUE AND MAKE A DIFFERENCE.
WE SOUGHT TO CREATE A MORE ENGAGING, DYNAMIC, AND ENVIRONMENTALLY RESPONSIBLE SOLUTION TO EXTEND THE 24-PACK'S USABILITY. DOING THIS INTRODUCES A PLEASANT USER INTERACTION AS WELL AS INCREASING STORAGE CAPABILITIES OF THE PACKAGE. IT'S UNIQUE, CRATE-LIKE FORM LENDS ITSELF TO A MORE OPEN AND FUNCTIONAL USAGE CASE, ENCOURAGING CUSTOMERS TO REUSE, AND RECYCLE.
THE DESIGN CAN ALSO BE SCALED TO FIT ANY NECESSARY PACKAGING ARRANGEMENTS. IT'S UTILITARIAN FORM ENCOURAGES REUSE AFTER IT'S ORIGINAL PURPOSE, AND ENABLES AN ENTIRELY NEW PRESENTATION FOR COKE PRODUCTS AND THEIR CONSUMERS. IN RESOLUTION, THIS RE-DESIGN INCORPORATES COKE CORE VALUES AND PROMOTES ENVIRONMENTAL RESPONSIBILITY THROUGH A NEW MEDIUM.