HAHA Team
| | |
| --- | --- |
| School: | University of Bridgeport |
| Team: | Yixin Cao, Tianyu Sun, Qiongjie Shao, Depin Wang |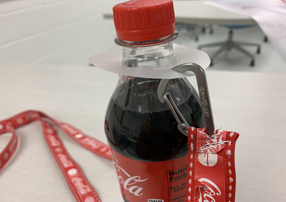 In order to achieve the efficient recycling of Hi-Cone, especially to enhance consumers' awareness of recycling, we combined the straps with the Hi-Cone,  produced a portable beverage bottle hanging straps.
Because the Hi-Cone is hard to deform and has good bearing capacity, we punched two small round holes at the two ends of the Hi-Cone connected to the bottle, fastened the lobster buckle through the hole. The cola bottle can be easily carried by a strap.
And we want consumers to be able to take one out of six bottles anytime, bring it with them. After our experiments, the Hi-Cone is evenly marked with small unpenetrated dots, which only need to be penetrated at both ends. Consumers need to apply a little force to tear it apart, and this will not damaged packaging during transportation.
So we poked such lines evenly at the dividing line of the six bottles in Hi-Cone, this way, consumers could tear off a bottle of Coke and bring it on their body through a strap.
People can release their hands when walking and shopping on a daily basis.
At the time of recycling, consumers will directly recycle the cola bottles connected to Hi-Cone, and the relevant staff will sort out the Hi-Cone and the plastic of the bottle body, put them into their respective recycling chains, and reproduce.
The strap is comfortable and ergonomic. We have a buckle on the top to adjust the length freely.
In addition, it can be easily stored and reused. Even consumers can use hooks to hang other small items, such as card bags, while hanging Coke.
According to the difference of consumer groups, there are many options for patterns.