Egg Salad
| | |
| --- | --- |
| School: | The Creative Circus |
| Team: | Leah Hale, Jordan Taylor, Ender Isin |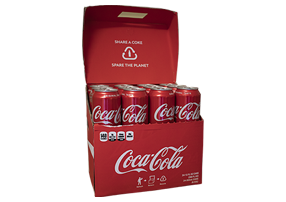 Our take on Coca Cola's mission to encourage the reuse and recycling of their 24-pack plays on
what is already familiar to the consumer to create the connection between the box's possible
uses. The reimagining of the pack, as a squarer container with a lid attachment, enhances the
presentation of the cans once opened, fits comfortably into many spaces, and encourages the
use as a bin in multiple situations, such as home, work, outdoors, or parties. For added use and
versatility, a small hole, identified by the perforated recycling symbol, can be opened to hang
the box in any elevated area. It's handles create easy transport, whether you're carrying it to
the car after purchasing or taking it to your local recycling facility.
Our icon system, located on the front and top faces, provides messaging to the buyer about
Coca-Cola's mission to encourage recycling, while also providing instruction on the steps to
reuse the box as a part of that mission.