Drink It Sink It
| | |
| --- | --- |
| School: | Rochester IoT |
| Team: | Nicole Eng, James Brimlow, Samuel Yu |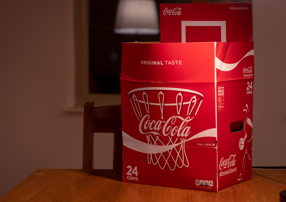 With basketball season just around the corner, what's a better way to get into the spirit than to consume a refreshing Coca Cola beverage? We decided to reflect this through our design.
In order to get consumers more excited to enjoy Coke with friends, we created a package for a 24 shareable pack of 12 fluid ounces of Coke.
In addition to that, we understand that one of the biggest challenges in the beverage industry is low recycling collection rates. We figured we could combine sustainability and basketball, all in one, with this recyclable 'party in a box'. This unique design is made from 100% Coated Recycle Paperboard (CRB). There is a tear strip in the front that allows for easy access of the delicious drink. There is also a tab on the top of the packed that, when opened, reveals a backboard and a pullout basket. This design allows for consumers to enjoy their very own basketball recycling bin.
To  go along with the #ShareaCoke campaign, we decided to follow the trend with a #DrinkitSinkit competition. This allows for family and friends to enjoy Cokes together, while also creating long lasting memories. The game is simple. There is a divider in the box so that you and your opponent can easily grab your own Coke. Once you are finished with your Coke, then you can shoot the can into the recycling basket.
When all the Cokes and the game is finished, you can easily close up the package and dispose both your cans and the recycling basket at your nearest recycling facility.This is made especially easy with the push in finger tabs created on the sides of the package. Our mission is to create a circular economy in which we can reduce, reuse, and recycle our used products whether it be a soda can or the packaging. Join our movement and save the planet while also spending time with your loved ones with a Coke in hand!