Corrugreats
| | |
| --- | --- |
| School: | Clemson University |
| Team: | Ray Cummings, Courtney Stewart, Lindsay Hardy, Katie Coyle, Mollie Maglich |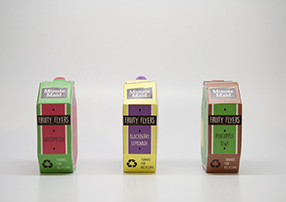 Today, roughly 7.5 million plastic straws pollute U.S. shorelines. To help combat this issue, Minute Maid has designed The Rip and Sip, their first 100% recyclable, straw-less juice box designed to benefit kids, parents, and the environment. Our mission was to create a recyclable package that eliminated plastic straws while aiming to inform and educate the consumer. Not only is The Rip and Sip made out of a multilayer, aseptic laminate that is 100% recyclable, it also showcases large, clear graphics for younger children, thanking them for recycling our package and improving our planet.
Our Rip and Sip technology, named for its straightforward opening mechanism, removes a juice box's traditional need for a straw. It instead utilizes a strategic perforated tab, which bends along the curvature and crease to tightly cover the drink and prevent spillage before the package has been opened. The perforated tab can be easily ripped to reveal a sloped edge that mimics the experience of drinking from a sippy cup, which contains two holes to drain potential excess product caught in the lip during consumption. The perforation does not detach completely, so as opposed to a straw and its wrapper, the package is constructed as one singular piece and minimizes post consumption waste.
As always, our product is 100% juice, and comes in a variety of flavors with no sugar added, to ensure parents that their children receive our honest and nutritious ingredients. The aesthetic of our new Fruity Flyers however, was designed with kids in mind; the Fruity Flyers brand is composed of bright, playful colors that cover the entire package. The hexagonal shape is illustrated with a "Fruity Flyer," a fictional, fruity bird made up of graphics to indicate the product's flavor for children who are too young to read. The unique hexagonal shape also serves as a more ergonomic and comfortable way for a consumer, or child to grip the package. Multiple panels are also covered in textured "seeds" and/or "feathers" to create a non-slip grip for a secure handling.
Parents and children alike can find value in The Rip and Sip, knowing that just by consuming the product, you are spreading environmental awareness and eliminating single use plastics. Rip, Sip, Hooray!