Corrugate Bros
| | |
| --- | --- |
| School: | Michigan State |
| Team: | Sarah Holland |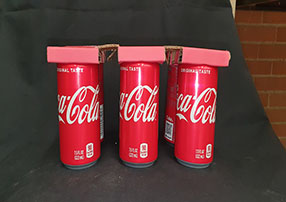 Pollution of our oceanic environments via harmful microplastics is more than a hot topic
in the news, it is a legitimate crisis that urgently needs to be addressed. Beyond just human
consumers "enjoying a Coke" or "sharing a Coke", we have designed a new, PLASTIC FREE,
100% RECYCLABLE, Coca-Cola package that will make the world's aquatic life smile too. The
Michigan State University School of Packaging team "Corrugated Bros" is proud to present the
new "Turtle-Pack" for 6 Packs of Mini Coca-Cola products, as a sustainable replacement for
plastic Hi-Cone packaging.
Our new "Turtle Pack" is a 100% E flute corrugated paperboard, 100% recyclable, user
friendly shell package. With four perforated finger holes that are generously sized, no
consumers are alienated from saving our planet while they enjoy Coca-Cola's most popular
products including but not limited to: regular Coke, Diet Coke, Coke Zero Sugar, and Caffeine
Free Coke.
The reason why we decided to use corrugated paperboard instead of plastic is because
paper/paperboard is more likely to be recycled. The total amount of plastic recycled in the US is
approximately 9.1%, whereas paper is being recycled 66.6% more in the US, a difference of
57.5%. It is also relatively inexpensive for companies to mass-manufacture, and is easy for
manufacturers to customize this material to many different product shapes. "Turtle Pack" also
comes with two perforated strips that can easily be removed, so you can consume your mini
Coca-Cola products in groups of two in event of sharing. The label of any company can also be
printed onto the "Turtle Pack" to keep shelf recognizability consistent.
The "Turtle Pack" for mini Coca-Cola products provides consumers with an overall user
friendly, eco-conscious, experience that considerably amplifies the "enjoyment" of "enjoying a
Coke". Not just for our personal friends and families, but for our aquatic friends and families too.