Minute Maid Straw-less Juice Box
| | |
| --- | --- |
| School: | Miami Ad School |
| Team: | Dan Currie, Jenny Thackham, Adila Wahdat, Emily Sparks, Margo Chapdelaine |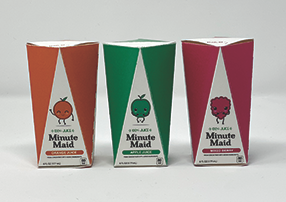 When you think about a juice box you are immediately transported back to childhood.
The easy ability to drink it on the go is what makes it a part of so many memories. From
picnics, to birthday parties, school field trips, or just playing at the park, the juice box is always
part of it.
The invention of the tetra pack juice box revolutionized the production of boxed
beverages without package waste, however making it only drinkable through a plastic straw.
This straw is not only a single use plastic but is also packaged in a small plastic wrapper and
glued to the side of the box. This flawed design brings frustration to the consumer because the
straw can become easily detached from the box during transit or simple day-to-day activities.
In addition, once the straw is ready for use it is easily broken by clumsy hands or failed
attempts at being inserted into the small straw opening.
With our new innovative design we built our box using a single die-line, further
streamlining production and using minimal waste. Our die-line was assembled with 8 triangular
planes, creating an octagonal grip making is easy for small hands to hold and reduce risk of
spillage. Continuing to promote sustainability, we eliminated the straw by developing a box that
allows the consumer to drink directly from it. The NEW design was inspired by the angled
mouthpiece of a milk carton but improving on the impracticality of a wide opening that is not
kid-friendly. At the top of the juice box, there is a clearly labeled triangular tab. Once pushed,
the top tab is supported by two interior side tabs. These additional tabs create a supported
funnel-shaped decline, leading down to a small opening for the juice to flow through. This
mechanism allows for continued airflow at any drinking angle allowing young users to enjoy
every last drop! Understanding habits are hard to break, we kept in mind some parents are now
using reusable straws and have allowed the push tab to easily accommodate this and prevent
consumers from being deterred by the new design.
In addition to single use plastics on the individual juice boxes, the multi pack is bound
with shrink wrap. We eliminated this plastic and bound the pack with recycled materials,
making the exterior packaging fully biodegradable. We redesigned the Minute Maid branding to
be more fresh and playful to further express themselves as a company, whilst maintaining their
core values and brand identity. We introduced illustrated characters for each variety of juice.
Olivia Orange, Adam Apple, and Berry Best Friends: Beatrice Blueberry, Bart Blackberry and
Ramona Raspberry. We wanted to bring whimsy back into the box design, while maintaining
the existing color palette that the Minute Maid consumer has recognized for years.