Applied Science
| | |
| --- | --- |
| School: | Rutgers University |
| Team: | Morgan Mason, Nicholas Stouchko |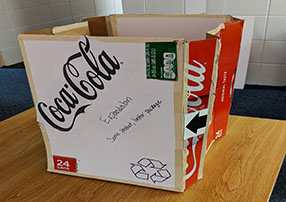 Hook:
With the newly designed Coca Cola 24 pack, recycling is more convenient than ever.
You don't need to buy bags, you don't even need to buy a bin. At events where a recycling bin is not accessible or inconvenient, there is no excuse not to recycle when the bin comes with the soda. (Tailgate, Camping, Party, Picnic etc.)
Materials & Recycling:
The case uses only one material. Paperboard. This means that the case itself is also recyclable with no confusion of mixing materials.
With several paperboard and coated recycled board options offered by Westrock, one of Coca Cola's current paperboard suppliers, our case can be made with 100% recycled paperboard or you can keep using types of paperboard currently in use. To promote recycling, the designs on the box are going to have clear directions on how to use the recycling bin, and how to dispose of it.
Size & Shape:
The initial volume of the box stays the same and is spec'd to be almost exactly the same dimensions of the original 24-pack. Once fully opened and locked, the case stays rigid at triple the volume, allowing for not only the 24 cans that came in the case, but for other recyclable items as well.
Glue flaps double as slit locks to not only close the original case but also lock the bottom of the bin in place when expanded.
Shortcomings:
Accordion style sides are pressed by hand, not scored by a machine, making it so the sides do not lay flat/nice when extended (can be fixed by manufacturing on an actual machine).
We did not create art suitable for a final product.
Overloading the box will result in failure of the locking tabs on the bottom
Estimated time until completion: minimum 3 working days

Day 1: Make any necessary changes to make the transformation more consumer-friendly(optional), create a real cutting and scoring layout, create final art for the package. Create prototypes for testing.
Day 2: Check for design flaws through consumer testing and filling on an assembly line, address any issues,  repeat until desired outcome.
Day 3: Continue work from day 2, finish testing, send drafts to manufacturer to produce at scale.
Directions:
There are printed instructions with pictures on one of the large panels detailing how to open and expand the bin, lock the bottom in place, and carry.
Tear the top off of the 24-pack (clearly marked). Once all cans are removed, peel the tear strip on both sides and break apart the adhesive flaps on the bottom. To expand out the walls and triple the volume of the case, simply pull the two largest sides apart. The base is laid flat on one of the inside walls, so simply push it down to the bottom and tuck in the three slit-lock tongues and the case is erected into a simple yet sturdy recycling bin.