Six That Split
| | |
| --- | --- |
| School: | RIT |
| Team: | Uddhav Patil, Kyle Quevedo, Marcus Messuri, Kashish Singh |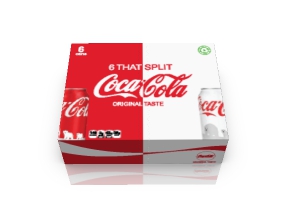 For many many years, any joyous occasion calls for the most loved beverage in all homes – Coca-Cola. Be it the Super Bowl, or finale season of Game of Thrones, each one of us are glued to the TV with a big bowl of popcorn and a can of Coke.
We believe in creating small things with everlasting memories and we do it with great passion.
'Six That Split' is a design concept for a six pack Coca-Cola package. Do you know how inconvenient it is to take the last can out? It's a sheer struggle where you don't know how to get the can out easily out of a traditional Coca-Cola carton and you also end up destroying the entire carton that can never be reused again. Six that split is a consumer friendly six-pack carton which opens up right at the center with the help of a tear strip. The tear strip, seamlessly runs across the body of the package in such a way that once a customer tears it open, they can split the carton into two equal halves with 3 cans on each side. The design is extremely ergonomical and user friendly. You can grab and go any can as they are easily laid out in their respective slots. This design takes minimum space in the refrigerators. Once the carton is split, they can be laid on any shelf or even the side door of the refrigerator. Because of its structure, they are extremely compact and convenient. Gone are the days when you need to store each can out of its box just to accommodate all the other things in your refrigerator. Our design addresses three main parameters – convenience, efficiency and sustainability. The package not only gives easy dispensing of the products, it also has a good area efficiency on the pallet due to its rectangular compact structure.
The packaging is made of 100% recycled paper which can be reused and recycled further. The printing process utilizes plant based printing ink making a positive impact on the planet
and people. Plant based ink is the world's truly sustainable, renewable and degradable printing ink. The printing can be a very economical process as everything is naturally derived.
Once the carton has been opened and the cans are empty, the carton can be reused. Each carton comes with six different planting seeds. Under each can is a small paper pouch with a seed to plant. One can fill this carton with soil, and plant it in their gardens. This way, not only are you reusing the package, you are giving something back to the earth in a more resourceful way. Further, the box can be made out of paper based pulp. Why not have something innovative and fun which gives back to the environment in a more meaningful way rather than polluting it?