J.A.M.B.
| | |
| --- | --- |
| School: | Virginia Tech |
| Team: | Anh Hoang, Matthew McBride, Jack Howe, Rebecca Haynes |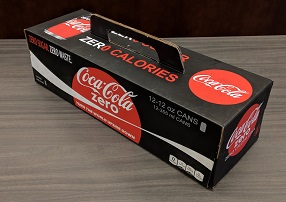 When redesigning the universally known rectangular 12-pack box, we wanted to capture the efficiency of the design while adding our own elements that enhance the sustainability and reusability of the design.
To achieve this, we decided to work with the Coca-Cola Zero product image as it was the best fit due to its sleek appearance and subtle appeal.
Starting with the most noticeable features, our handle, which acts as a replacement to the current model, stands out proud on top of the design. We figured that customers would enjoy the option of being able to carry their Coke product with ease whereas the current perforation design can be aching on the fingers for long duration.
Immediately this addition may seem as a detriment to the package's ability to stack. This however is accounted for as the handles can flatten out, creating a surface that keeps the box perfect for unit loading and shelving in all settings.
Now onto the more subtle aspects.
What is not immediately apparent from the outside of the package is the engineered folds that have allowed for a completely adhesive free box. The paperboard's tension on itself removes the necessity for glue at any part of the boxes' production through use of three, simple, interlocking pieces.
Up to this point, we had a box that was recyclable, improved the customer's comfort, and cut out a part of the assembly completely, all while only ever using a single sheet of tightly dimensioned paperboard. What was left was to add additional functionality to the package, or rather, further the desirability for the consumer.
With current methods of 12-pack packaging, customer's utility derived from their packaging ends after the case is empty. Now, with our design, customers can instead choose to reuse the box as a tote by using the pre-designed slots intended for converting the empty package into a shockingly sturdy container for moving their own goods,. Ultimately, this new function gives a container that would otherwise be wasted a new purpose and one that exposes the Coca-Cola brand in a new favorable light.
No one ever expected more out of their 12-pack because they didn't know what they were missing. Graceful, glue-less, and green, this design paves a new way for both sustainability and expectations.