Fanta Fruit Medley
| | |
| --- | --- |
| School: | Creative Circus |
| Team: | Talia Hale, Britt Smith, Cleo De Laney |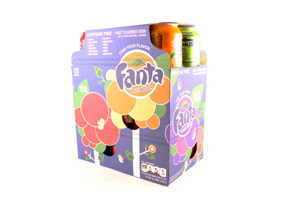 Fanta offers a flavor for almost every fruit imaginable, but it's hard to branch out and try new ones when consumers already know their go-to flavor. With the Fanta Fruit Medley, it's easy to mix it up and discover a new favorite.
Each Fanta Fruit Medley twelve pack contains twelve unique Fanta flavors in an easy-tocarry, easy-to-share package. The new package utilizes the fun, fresh design elements of the current cans to create a fantastical forest that highlights the variety of flavors, with die-cuts revealing peaks of the colorful fruit medley within.
The distinct box will intrigue devoted consumers to see what the new and exciting product is, while unfamiliar consumers will still recognize it as a part of the Fanta family. The slim package sits and stacks in a similar way to the current design, so integration into the aisle will be seamless.
The perforated layers allow users to tear off the top of the package, but perfectly holds the bottom row in place. This allows consumers to see a selection of six flavors at a time, which is great for the family fridge, a picnic at the park, or a party.
Together, the biodegradable hemp paperboard and cutouts encase the Fanta Fruit Medley in a more sustainable and cost effective manner. Hemp paperboard is non-toxic, can be reused, and is 100% biodegradable, making it easily recyclable in composts or landfills. Hemp is also more durable than traditional paperboard, reducing the likelihood of damage in production and transportation.
The Fanta Fruit Medley pack is the perfect way for consumers new and old to have the chance to experience all the flavors of Fanta, and in the process discover new favorites that they'll go back to again and again. Fanta Fruit Medley. Find your flavor.