Coca-Coozie
| | |
| --- | --- |
| School: | Portfolio Center |
| Team: | Sarah Wood, Caroline Livingston, Deja Mays, Jordan Chopra |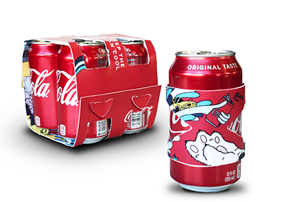 Last year, The Coca-Cola Company announced a global goal to create a "World Without Waste". By 2025 they plan to have all their packaging to be fully recyclable, and by 2030 they plan for 50% to be the amount of recycled material they use in their products. The Foundation has have awarded 5.4 million dollars to the The Recycling Partnership. As a part of this effort, it makes sense for them to ask the question, "How can the 12-pack be brought to the next the level of convenience, efficiency and sustainability." They asked and we answered.
For our idea, we decided to give the world a different way to enjoy Coca-Cola with Coca-Coozies. We made it our mission to help save the environment while making it fun. Coca-Coozie packaging uses recycled materials and is 100% reusable. The design uses a (fraction) the amount of material of the original packaging. From the Coca-Cola company website, chief community strategy officer of the Recycling partnership is quoted saying, "​Recycling is not top of mind for everyone, so clear and concise information is critical." With that being said,​The Coca-Coozie can be reused and features designs that send a friendly reminder to recycle it once you are enjoying your delicious Coca-Cola beverage. The packaging is an innovation on an already simple package design, so it is not only easy to make in manufacturing but also something familiar and easy to use with the consumer. The Coozie part just wraps around the can with tabs that fit securely at the end. Never before has box packaging for a can beverage been designed to be for function of use outside just a container. The Coca-Coozie creates an emotional connection with the consumer because of its mission to save the environment. The Coozie​ is covered in illustration meant to inspire people to want to make a change and remind them that in their hands (literally) is the future of the planet.. Also the attractive​ Coozie ​ design will allow for this to be shared over social media .Having this Coozie is an instagramble moment. Lastly since the design uses (⅓) the packaging of the original design it cheaper to make than the original.
We chose to have a 70s inspired aesthetic to pay homage to the history of Coca Cola , the Koozie, and the effort to save the environment. The 70s were the first time Coca Cola started using recycled packaging as well. Also in the 1970s was when the Environmental movement. The first Earth Day was organized April 22,1970. In the same decade the Koozie was invented in Australia. Paying homage 70s just seemed like a natural thing for this effort. Coca-Cola Coca-Coozie keep your drink cool.Keep the earth cool.