Coca-Cola Rhombus 12 Pack
Coca-Cola Rhombus 12 Pack
| | |
| --- | --- |
| School: | Portfolio Center |
| Team: | Sheba Lee, Justin Tompkins, Ronak Patel, Millie Nicholson |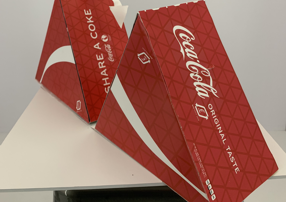 According to the Washington, D.C.based Grocery Manufacturing Association (GMA), 40% of Americans are aspirational recyclers​. Interestingly enough, in a GMA survey of American adults, participants were asked to identify a set of four recycling symbols. Yet, fewer than half could define even one correctly. The most common response across all four was, "I don't know."​ even for the universal recycling symbol.
Our packaging goal is to eliminate confusion and motivate a positive change in the consumers' eco-habits- whether that relates to making considerate spending choices, breaking down boxes properly, or participating in the local curbside recycling programs that 51% of Americans currently have access to.
In developing our design rationale, we decided to use Coca-Cola's established visual elements which harness the brand's equity to ensure familiarity. We also wanted to introduce a sense of optimism through lighthearted iconography that acts as an emotional incentive for interacting with an Eco Coca-Cola product. For branding purposes, our guiding characteristics are: Educational, optimistic, refreshing, and familiar.
Branding aside, our goal (for the form itself) is to create a packaging structure that considers grocery store shelf presence, refrigerator presence, easy transportation and reduces the amount of material used. We found the rhombus shaped hyphen in the Coca-Cola logo as inspiration for the shape for our design. A rhombus naturally breaks down into two triangles. Our Coca-Cola 12-pack is a rhombus that breaks down into two, 6-pack triangles. This feature allows the consumer to break down and recycle the used half of the packaging. The concept of two 6-packs within one 12-pack is ideal for consumers that would like to reduce refrigerator space, or take half of the product elsewhere. This design is optimal for tearing and sharing.
As we designed we kept the following quote in mind:
"As the world becomes more complex, we all have the opportunity to use design to make our world–our families, our communities, our companies, our cities, our countries–better, more agile and adaptable to change, if we design on purpose " – David Butler