Coca-Cola 12 Pack Redesign
Coca-Cola 12 Pack Redesign
| | |
| --- | --- |
| School: | University of Florida |
| Team: | Dylan Green, Kimberly Hafner, Lauren Cunningham, Ashley Phillips, Ashley Owens |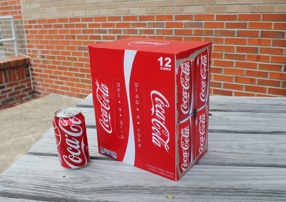 When it comes to soda, Coca-Cola is the world's most recognized brand. We were challenged to optimize the iconic 12-can Fridge Pack to the next level of convenience, efficiency and sustainability. We wanted to keep some classic and nostalgic packaging elements, but ultimately revamp it to fit the 21st century. By redesigning the 12 can pack, we attempted to achieve a more compact footprint and were able to reduce the surface area to volume ratio of the package, reducing package material (~4%) while preserving existing efficiencies. Many consumer's first interaction with the Fridge Pack begins in a market aisle, so it needs to make a stand-out first impression. We achieved this by condensing the package: 2x6x1 can arrangement vs 2x3x2 can arrangement.
From a supermarket standpoint, the revised packaging allows for more efficient grocery cart packing and easier transfer onto a conveyor belt for scanning. For shoppers that use handheld grocery baskets, this more compact package size is ideal– a feature not feasible with the current design. Our new design also features two perforated punch-out handles that allows for an easier, comfortable, and more secure and ergonomically friendly grip, applying product load across the whole hand instead of only to parts of the fingers. Once out of the store and back at home, the new Fridge Pack easily fits into any full-size fridge main shelf and most side doors. Due to the condensed can arrangement and perforated tab that runs from about the middle of the front face through the entire depth of the top face, every can is in reach and can be easily accessible. This tab with a clever "coke pull tab" design can act as a light closure, returning to its original position to cover the remaining cans.
We also explored alternative, sustainable materials that could be used to construct our design. We came across a newly developed product called Mako Board as a viable option. According to the company, it is 'the world's leading environmentally friendly, moisture resistant paperboard for indoor and outdoor use'. This would make it super easy to take a pack out on the boat, to a picnic, or to a tailgate party without it falling apart from any moisture it may encounter. Not only that, but Mako Board is biodegradable, compostable, and recyclable and so is more materially sustainable than the current design. Overall, more people will be able to have better, easier, and more positive interactions with the Coca-Cola Fridge Pack than was ever possible in the past.