Break and Take Pack
| | |
| --- | --- |
| School: | Clemson |
| Team: | Ryan Neilson, Tyler Gunter, Theresa Ciccarell |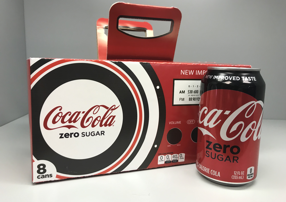 This time of year, consumers are excited by the proposition of a summer vacation. What goes better with a summer than an Ice-Cold Coke? Consumers recognize they'd look out of place when they show up to a crowded beach with a massive, clunky and overly long old-style 12-count fridgepack. For this reason, we propose a modular alternative: the NEW Break and Take Pack.
The NEW Break and Take Pack is a modular 8-can fridgepack created using a 100% recyclable lamination of Kraft paperboard and coated SBS cut from our dieline. Our dieline incorporates features such as a fully functional zipper-style connection between two 4-packs to create a 2×4 multipack of 8 cans, while still maintaining the best features of an old-style fridge pack, such as perforations for convenient access to cans from a fridge-shelf orientation.
We know that college, work, and home fridges and mini-fridges are usually too full to support an old-style fridgepack. Our response with the NEW Break and Take Pack is multiple fridgepack orientations such as, lay-flat and standing upright; for the tightest of fridge squeeze-in locations, our dual 4-packs can be disconnected and fitted separately into the hard-to-reach locations of a full fridge.
A wonderful secondary benefit of the break-away modular design is that you can Share a Coke with friends without ever having to touch the Ice-Cold aluminum surface of your favorite Coke flavor can. The NEW Break and Take Pack excels in one hand operation, with two handles incorporated into the glue-flap of each 4-pack. The new handles plus the hand-sized shape of the individual 4-packs makes it great for shoulder carry techniques, as seen at the end of our neat video.
Our fun video shenanigans and graphics were inspired by our reaction to the very first prototype we produced. It's pretty much the same size as a miniature boombox, or a beach radio. With music playing while we silly college students admired our first prototype, inevitably one of us used the prototype as a shoulder mounted boombox. We used this as the theme of the NEW Break and Take Pack's graphics. Traditional coke red, and zero sugar blacks are blended graphically with our innovative beach boombox inspired features. An AM/FM tuner, volume, and selection dial are incorporated into the principal display panel. Finally, our most important graphic design feature is the speaker-driver shaped area for placement of the Coke Zero Sugar logo.
The NEW Break and Take Pack will not need to be repackaged for transport which is key for Amazon's Frustration Free Packaging initiative. Our fridgepack engages the consumer in a store setting, has modular features for a tight fridge environment, and can be carried in a variety of manners with ergonomics in mind. With a few more than 48 hours more work to be done, our fridgepack is worth a look on real world shelves. Again – 100% Recyclable.