Biodegradable Coke Fridge Pack
Biodegradable Coke Fridge Pack
| | |
| --- | --- |
| School: | KSU |
| Team: | Yeseul Cho, Cindy Jodesty, Mackenzie Kuhn, Margaret Owen |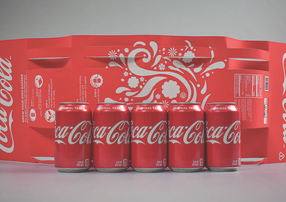 As eorgia residents, our team was inspired by the challenge to redesign the Coca-Cola multi-can bundle packaging. We wanted the new packaging to be incredibly simple in terms of production, convenient for the consumer, and friendly towards the environment in more ways than one. n line with Cokes desire to be more environmentally conscious and sustainable, our package is made entirely of one sheet of paper to minimize the use of materials, be cost effective, and reduce production time. We omitted the use of plastics and harsh dyes by printing with soy based inks on an unconventional plantable paper embedded with seeds for friends and family to interact with together.
Our seed paper comes with perennial and annual flower seeds, and no two packages are alike, just like our consumers. The bottle cap icons explain the planting process of the package in an inviting and easy-to-understand manner, and what better way to plant your spring garden than surrounded by friends and family, with a coke in hand
Although we have totally changed up the package design, we maintain the convenience and efficiency of the original 12-can pack which is so important to the consumer. Our new grab-and-go concept stands out next to the traditional rectangular soda packages on the shelf. The reinforced handle makes carrying as easy as before, but the hand hold is slightly bigger to be comfortable for people of all ages. The handle is perforated for removal and easy storage in the fridge, and the flexible design allows the package to fit easily inside the fridge according to your refrigerator size and capacity. Although we removed the can-dispensing corner, the cans are now easier to view and access. The design is able to size up to 14 cans, or size down to 4 cans by adding or removing rows during manufacturing.
Our new packaging design is a great way to bring in the new seasons with a fresh, dynamic, eco-friendly, and efficient design. Open a can of happiness with Coca-Colas newest sustainable packaging by growing gardens and memories together!