Your Daily Nuts
| | |
| --- | --- |
| School: | Virginia Tech |
| Team: | Christine Le, Daniel Agunias, Arnold Polk, Louis Milton |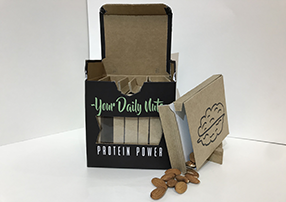 Your Daily Nuts seeks to promote health and wellness in an exciting and sustainable manner. Unlike traditional nut packaging, Your Daily Nuts seeks to encourage people to eat nuts on a more consistent basis, promoting a healthier lifestyle. Instead of providing nuts in a single large package, Your Daily Nuts provides seven daily 100 percent recyclable packages of nuts contained in a single weekly box, with a window that allows the consumer to track their progress.
Each daily package is a thin, square, paperboard container you can easily fit into a pocket or purse and take wherever you go. A pull tab on top of each package allows quick and easy access. Within each package are two ounces, or about two servings, of mixed nuts.
Seven packages of nuts means that if the consumer eats one package of nuts a day, then they will finish the entire box within a week. This allows the consumer to effortlessly plan how many boxes of nuts they need to purchase, and creates a daily routine in which they take one package of nuts each day.