Thrive
| | |
| --- | --- |
| School: | Kennesaw State University |
| Team: | Mitchell Douglas, Jessica Fields, Cindy Jodesty, Preston Luk, Angelica Montealegre |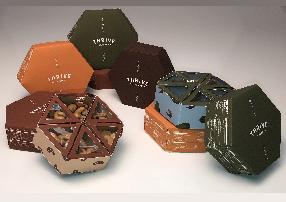 Snacks get a bad rap. Many of them are unhealthy and full of sodium and sugar but, some are not. Nuts are often seen placed amongst other snack foods like chips and cookies, but nuts are actually much healthier. As with everything, raising healthy children begins at home, and with good parenting and role modeling, these values can begin in the home when parents encourage their kids to eat right and maintain a healthy weight, thus developing health eating habits as they grow into adulthood.
The New England Journal of Medicine and the Journal of the American Medical Association Internal Medicine both concluded that a serving of tree nuts and legumes consumed on a daily basis boosts heart health and reduces the risk of cancer and other diseases. Although the packaging may inform the consumer about serving sizes by giving calorie content, they don't clearly state an amount per serving, so most brands lead the consumer to view nuts as much less healthy than they really are. This is why at THRIVE MARKET the new packaging takes calorie counting out of the equation by having pre-packaged portions.
Not only does our packaging bring portion control to the consumer but, it also educates the consumer. By creating self-contained packages of nuts we give the consumer an easy and mess free way to enjoy nuts on a daily basis without over eating. The biodegradable container and sleek design help to eliminate waste and are environmentally friendly. The packaging is not only convenient and eco-friendly but comes with helpful reminders of the health benefits of nuts. Now consumers will know they have a snack option that is just the right amount at just the right size for our busy on the-go-world. The attractive and convenient packaging will have consumers coming back to their new favorite nut brand again and again as it becomes a stylish and healthy part of their daily routine.