THESE mixed nuts
| | |
| --- | --- |
| School: | Chowan University |
| Team: | Ben Schuch, Shelby Barlowe, Olivia Borer, Zoe Beale |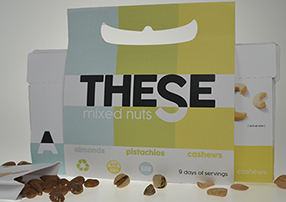 Chowan University's student team of Schuch, Barlowe, Beale, and Borer aimed to create packaging for individual pouches of nuts to encourage daily use and reap the health benefits. The clean, essentialist design speaks to the health and wellness factors of daily nut consumption. The colors each correspond to the included nut products, offering opportunities for product expansion into different nuts and other healthy snack mixes. In addition, the graphics relate to a wide audience of customers through the pleasant color scheme.
The structure involves first a sleeve with a convenient handle and hang tag to secure the products together. It allows the products to stand on their own or be hung from shelf hooks in the store. The logo for "THESE Mixed Nuts" is bright and bold to catch the customer's eye on store shelves. Featured in clear view on the sleeve are ethical icons for the customer's awareness, including the use of recycled materials and friendly to whole food, vegan, and non-GMO diets. The back of the sleeve provides health facts related to daily nut consumption, as well as a nutrition label and barcode for in-store capabilities.
The nut products are held in a structure of three pouches attached to a band. A perforated edge allows the individual serving pouches to be torn from the structure and eaten easily and conveniently on the go. The structure is capable of being stored on a countertop or through magnets on a fridge or in an office, which can remind consumers to eat the nuts daily to gain their health benefits. In contrast to the colorful sleeve, the structure for the nut products uses more negative space for a sleek, clean product to be displayed in a home or office. Pictured on the pouches' fronts are the nut products at full size for refreshing consumer awareness. The back of the structure features the nutrition facts and ethical icons once again in the event the outer sleeve is discarded.
The product structure is designed to be commercially and practically viable to efficiently reproduce. The die-line of the package will nest, allowing efficient use of materials and speeding up production. The margins within the design allow for variance in production, lowering spoilage and increasing profit margins. In addition, the minimalistic color pallet allows for efficiency in printing by allowing for specific spot colors rather than CMYK builds. Overall, from start to finish, the design of the "THESE Mixed Nuts" product promotes efficiency, effective use of materials, and consumer health awareness through nutritious and delicious nuts.