SPAMbars
| | |
| --- | --- |
| School: | Portfolio Center |
| Team: | Katie Tynes, Danner Washburn, Sarah Wood, Anna Griscom, Shivani Shah |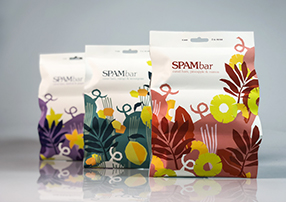 Center-aisle, shelf-stable "processed" foods are traditionally a nuisance. Not only are they seen as gelatinous "mystery meat", but customers have also been plagued by harsh aluminum tins with sharp edged lids prone to knick and scratch. They also have a pretty bad health rep, but why? How did these once-beloved items become so looked down upon?
Introducing SPAMbars – The spiced ham, once dubbed as a "wartime delicacy" by Margaret Thatcher, is making a whole new kind of comeback. SPAMbars are a wholesome snack bar perfect for any on-the-go lifestyle.
The single-serve packages of SPAMbars are what make this product so unique. SPAMbars come in packs of six and the tearable slips are perfect for grabbing one or two bars at a time. With the convenient tear-off pouches, precious meat will never be wasted again. Recyclable paper packaging makes sure our precious resources won't be wasted either. The bars are connected to each other with minimalist, rippled packaging and zero excess material.
Each bar is made with only eight ingredients making for zero mystery about this meat. There's been misconceptions about SPAM for far too long. The SPAMbars are perfectly portioned and a balanced snack. They have 7 whole grams of protein to fuel you throughout your day and are nutritionally comparable to other health snacks like almonds. Eight ingredients also make for a transparent product. The ingredients are all-natural and healthy without the risk of losing any flavor.
Speaking of flavor, these bars are a healthy alternative when snack options are slim. Choose from a variety of flavors that not only cover your taste buds but also the world. Cured ham purposefully paired with flavors from mango and lemongrass, starfruit and ginger, to pineapple and manoa. Each pairing highlights the culture of one SPAMs oldest fans. SPAMbars with their long shelf life is a positive. It's remains fresh from the moment of packaging to the second you tear open a bar making it the perfect snack for now or later.
SPAMbars are made for the 21st century where customers no longer have to choose between their health and convenience. They're accessible, affordable, and always reliable. SPAMbars are delicious, nutritious and sure to please.