Simply Ham
| | |
| --- | --- |
| School: | Michigan State |
| Team: | Jessica Hamilton, Linh Dao |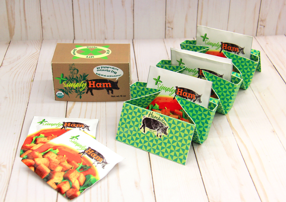 A spinoff on the classic shelf stable meat "Spam", "Simply Ham' is a natural, better-for-you alternative. We created this package with a vision in mind: lift, pick, taste, re-use. Not only are the paperboard lid, folded carton, and flexible pouch recyclable but we want consumers to be able to make use of this package long after they have eaten all six-travel size single servings.
Once the easy-to-lift lid has been taken off, the folded carton or as we cleverly called it the "ham wallet," springs out into a stand-up display where one can see how many delectable "Simply Ham" single servings they have left. A big trend in consumerism is individualization and we give consumers the best of both worlds so they can grab a "Simply Ham" on the go, or keep their folded carton display sprawled out in its unique accordion style form on the kitchen counter. If the consumer does not want an aesthetically pleasing accordion style folding carton occupying space on their counter? No problem, the consumer can just flip the lid 180 degrees and tuck this carton into it, and you have got yourself a little rectangular shaped container which acts as a little filing box.
Now this is where re-use comes into play; we promote the re-utilization of the folding carton as a holder for recipes, letters, anything you want to keep at arm's length for a while. After all, the re-use of material is the smartest sustainable method we as consumers can take part in. This package is one that consumers will want to keep around for months maybe years and that is why it's revolutionary for its kind.
Definitely the shelf stable meat market has never seen a package design so sophisticated in structure yet playful in design. Consumers will walk down the canned food aisle reminiscing on the days of convenient camping style foods, see "Simply Ham" as the 100% natural option compared to its competitor's, and feel Hambitious immediately. No other shelf stable meat brands are using paperboard cartons so when the customer sees our pack with its rough natural Kraft exterior, simple as well as natural graphics. These features inflict a feeling of environmental responsibility as opposed to Spam's not easily recyclable metal can.
Since we only use flexible pouches and natural Kraft paperboard our package is practical for a start-up because it doesn't involve capital needed to invest in a metal canning system. In this way the brand Hambition would attract small organic farmers making our package system sustainable from origin to recycle.