Pistash-n-Go
| | |
| --- | --- |
| School: | Rutgers University |
| Team: | Sofia Silva, Jeremy Bond, Janghyuk Cho, Drew Orzechowski, Michelle Gallic |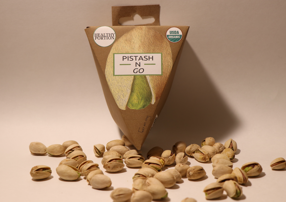 Consumers in 2018 are looking for snacks that are both nutritious and convenient. They are concerned with product portability and recyclability. Tree nuts bring a delicious and cancer fighting crunch to any lunch. However, health conscious consumers are counting calories and practicing portion control; this is where tree nut products often fail as people indulge passed the daily recommended portion. Our product "PISTASH-n-GO" solves this problem in a simple and elegant paperboard design. The pistachios are packaged in 8 individual, triangular pieces that all come together to form a wheel. Each triangular piece is connected through a perforation, so that the consumer can easily tear an individual triangle off the wheel, ​stash ​ it, and take it on-the-​go ​ . Each individual triangle contains a single portion of pistachios in compliance with what ​The New England Journal of Medicine ​ and the ​Journal of the American Medical Association Internal Medicine ​ has deemed acceptable for daily consumption.
Another problem pistachio consumers run into is where to put the shells after tearing them off the nut. Usually consumers, while eating, use separate containers – one for the full pistachio and one for the shells. We solved this issue by adding a cell within each triangular container to discard the shells. This part of the container can be torn off and added to compost. The rest of the container is made out of virgin paperboard and can be recycled after use. We used virgin paperboard over recycled paperboard to follow food packaging regulations. Our graphics and design are made to attract new consumers and portray a healthy and natural feeling to the product. There's an added hanging feature to allow versatility in display choices in the retail setting. The unique wheel is eye-catching and will stand out on the shelf against the typical bags and cartons of competitors.
Market research shows that millennials are looking for products that fit their on-the-go lifestyle. This package fills a niche in the market by maintaining portability and preventing consumers from turning to unhealthy snacks when hungry.