Ohm Sparkling Water
| | |
| --- | --- |
| School: | Virginia Tech |
| Team: | Amanda Augugliaro, Hayden Hovis, Jayne Little, Justin Israel, Michelle Lipka |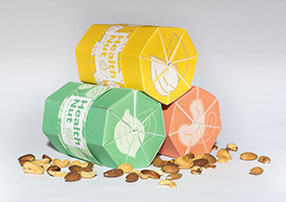 Experience tranquility with Ohm: a new product which allows consumers to choose up to two tablets of flavors and drop them into a bottle of carbonated water. A package of Ohm comes with 8 flavored tablets, 2 of each flavor, that can be mixed and matched to produce 10 flavor combinations! The flavors that are currently offered are lemon, lime, cranberry, and raspberry. The different flavors have unique chemical compositions that include various antioxidants and nutrients which promote a healthy diet. In addition to providing nutrients, the use of tablets promotes a preservative-free drink which prevents the chemical formation of carcinogens like Benzene. Ohm was designed to prove that soft drinks can be both healthy and delicious!
The unique style of this product packaging allows consumers to buy an Ohm kit which includes 3 Ohm bottles consisting of carbonated water and 8 Ohm tablets consisting of 4 different flavors, antioxidants, and nutrients. The packaging can be held similar to a lunchbox and is opened by lifting a flap which is attached with a hot melt adhesive. When the flap is lifted, the three bottles and 8 tablets are revealed. The tablets are placed in a half blister pack for easy access of one or two tablets at a time, giving customers the freedom to decide what flavor combinations they want to create.
The graphics on Ohm were inspired by all the small but joyful moments in our day to day lives. The colors and design on the package are meant to exemplify how our product is packaged with 100% natural materials and how the tablets are filled with vitamins and minerals extracted directly from the environment. Our goal is to provide a peaceful and natural feeling for the consumer when they buy and carry the Ohm kit to gatherings and events.
Ultimately, Ohm serves as a healthier substitute to commercial soda beverages since Ohm is sugar free, preservative free, and locally made. Ohm provides the consumer with a choice in what they want to drink and how concentrated the drink is. Not only does Ohm encourage a healthier lifestyle, it also is helps to lessen our carbon footprint with it's fully recyclable design! Ohm, two, three; a healthier me!