NUTricious
| | |
| --- | --- |
| School: | Kennesaw State |
| Team: | Nicholas Baker |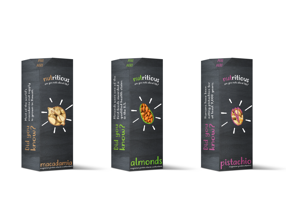 As a college student and someone on-the-go, I know a major struggle is not only
finding the time to pack a snack, but also making sure that it is a healthy one. With this in
mind, I wanted to create something that is quick to grab when you're in a rush and
prepackaged with those needs in mind.
Nuts offer a myriad of health benefits and are naturally rich sources of protein, fiber,
amino acids, etc. In our world today, people are becoming focused on their health by
monitoring what they put into their body now more than ever before. Not only do they want
something that is good for their body, but equally as good for the Earth.
A smart brand listens to its consumers, which is why I created Nutritious. A large
brand with a local feel. I chose to incorporate the idea of "transparency" by being able to see
your food, knowing what you are getting, and knowing where it came from. I chose to go with
a chalkboard-style background, handwritten text, and fun facts to play up the idea of
education. Nutritious should not only nourish the consumer's body, but also nourish their
mind. The perforated tab allows you to easily access the snack and share with others while
avoiding the possible transfer of germs that comes from placing one's hand into a container.
Most brands typically use plastic bags & metal containers to package their products,
which led me to conclude that box packaging made from affordable recyclable materials
would stand out in comparison to other brands on the shelf.