Nut Shots
| | |
| --- | --- |
| School: | Portfolio Center |
| Team: | Luke Romig, Laura McMullan, Juliana Scarfone, Sheba Lee |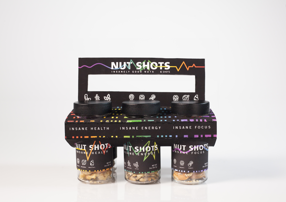 Nut Shots makes an explosive entrance into the well-established nut market by appealing to the young professional male wishing to make healthier lifestyle choices. Eating nuts is an easy first step, providing various health benefits— notably protein, omega-3 fatty acids, and fiber—but it's unfortunate that the designs in the nut aisle are not more visually compelling and attention grabbing. Nut Shots aims to provide an easy and refreshing presence on the shelf while also highlighting the perfect portion size for the on-the-go lifestyle of the young professional male working to balance health, work, social life.
To help with this, Nut Shots offers an easy system with a variety pack of three pre-mixed nut shots—Insane Health, Insane Energy, and Insane Focus— designed to provide the perfect snack for any situation. Making lifestyle changes is never easy but this concept combines the sentiments of an on-the-go, fastpaced lifestyle with the energy and focus needed to succeed.
Through the use of repetition, contrast, and balance, our design language combines vibrant colors, line, and form, to visually represent how the juxtaposition of energy and health can exist in the consumers life. For example, the Insane Health blend uses a warm colored gradient in a shape that resembles the EKG heartbeat line. The use of lines represents the measures of activity that our consumer experiences in their daily lives, but also the levels of activity that our blends have to offer. By setting vibrant, electric colors against a black background, Nut Shots stands out on the shelf as the obvious choice for young male professionals.
Nut Shots packaging also includes an icon set to offer consumers an easy way to identify which nuts are specific to which benefits. Along with our choice to package Nut Shots in a 6-pack—referencing the familiar packaging of beer—our color system and icons help to provide a familiar and easy transition into a convenient and healthier lifestyle.
Lastly, Nut Shots is dedicated to their Corporate Social Responsibility by encouraging a healthy, responsible, and sustainable lifestyle, seen through a minimal one-panel dieline made from 100% recyclable paper. Nut Shots goes balls to the wall, providing insanely good nuts for an insanely healthy body, inside and out.