Nothing But Nuts
| | |
| --- | --- |
| School: | Virginia Tech |
| Team: | Jessie Arevalo, Johnny Aguilar, Nebil Abdoush, Liam Smith, Aseef Haque |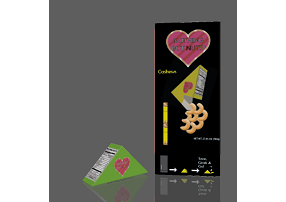 Daily consumption of tree nuts has been linked with a reduced incidence of coronary heart disease and gallstones in both men and women and diabetes in women. However, it is important to consume the recommended daily intake, which varies depending the type of tree nut and can be hard to calculate. "Nothing But Nuts" solves this issue by providing the consumer an easily accessible, self-dispensing package that the average "on-the-go" consumer can take with them and not worry about calculating the serving size.
Each individual serving of "Nothing But Nuts" also features a re-sealable swivel opening that will provide containment of the product, but also allows the nuts to be easily dispensed. The graphics on each serving box also includes nutritional facts of the chosen tree nut. Furthermore, in an effort to encourage daily consumption of tree nuts, and begin a healthier lifestyle, a QR code linked to Choosemyplate.gov will be displayed which will allow the consumer to create their own customized food plan that includes nuts. The QR code can be accessed using any smartphone.
The main package of "Nothing But Nuts" provides easy storage in any cabinet pantry without the need to reseal the box. The construction is split into four sections, one face of the rectangular prism for one of four nuts, pistachio, cashew, almond, or pecans. On the bottom, a tear able tab will allow the consumer to pull out a serving of the specified nut and will self-dispense the above nuts for consumption the next day. The sides feature a small window to allow the consumer to see how many servings of each nut they have left. All of the components for "Nothing But Nuts" packaging, including the individual portions, will be constructed using recycled paperboard that has been treated for use in the food industry.