Monster Mix
| | |
| --- | --- |
| School: | Virginia Tech |
| Team: | Seth Trivett, Alexis Michael, Nathan Kent, John Harris, Celeste Greenbaum |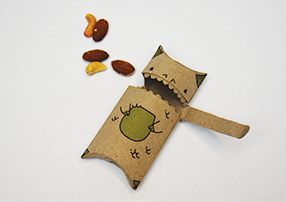 Nuts are a healthy snack alternative to often sugary lunch fillers. Our brand, Monster Mix focuses on children as our primary user group. Monster Mix develops an affectionate and emotional connection between the child and a daily serving of nuts. Monster Mix allows the child to participate in a fun unboxing experience that will both entertain and provide easy access to the nutritious product. Children will interact with individual serving mixed nut containers with joy as they tear the perforated mouth of a familiar monster, revealing both cartoonish teeth cutouts and a dialogue box unique to the individual package. The package retains its value post-consumption as a figurine the child may engage with during lunch period.
Our approach in designing the primary packaging was to target the health-conscious consumer, which in this case are the parents of grade school age children, with a design that incorporates minimalism and simplicity into its attraction. This simplicity reflects the product itself: a blend of various nuts without additives. The primary package is a durable Kraft paper bag with a paperboard handle containing graphics and product information. It contains ten individual serving cases of mixed nuts, one complete serving for each day of the school week. By focusing on being an alternative to sugary school snack alternatives, we promote both healthy habits and an encouragement in repetition of purchase from the consumer. Manufacturability of the primary package was also considered. The Kraft packages have a rectangular base and low weight, so they can be easily stored in a shipper without compromising the appearance of the package itself. The individual packs of nuts can easily be folded and sealed with the product inside.
Monster Mix uses only sustainable materials in its packaging. All components of the packaging system use only the natural fiber of the paperboard material as the background to their respective graphics – no gloss or polymer additive layers. This results in complete recyclability in almost any re-pulping facility while remaining a viable option for food packaging. Monster Mix also incorporates the use of minimal natural color toned graphics, allowing inks based on soy rather than petroleum to be used to further reduce its footprint without affecting the attractiveness of the packaging system. All components of the packaging system contain images or phrases regarding the recyclability of the package encouraging sustainability.
Monster Mix turns a healthy snack into a playful lunch experience for the child, and a worry- free purchase by the parent.